Last minute tips and complete study material for UP Board Class 12 English paper 2018
UP Board class 12th English exam will be conducted on February 24, 2018 and February 27, 2018 for both the papers. Student can get here tips, study material, syllabus as well as exam pattern for paper 1 and paper 2 of UP Board Class 12th English exam.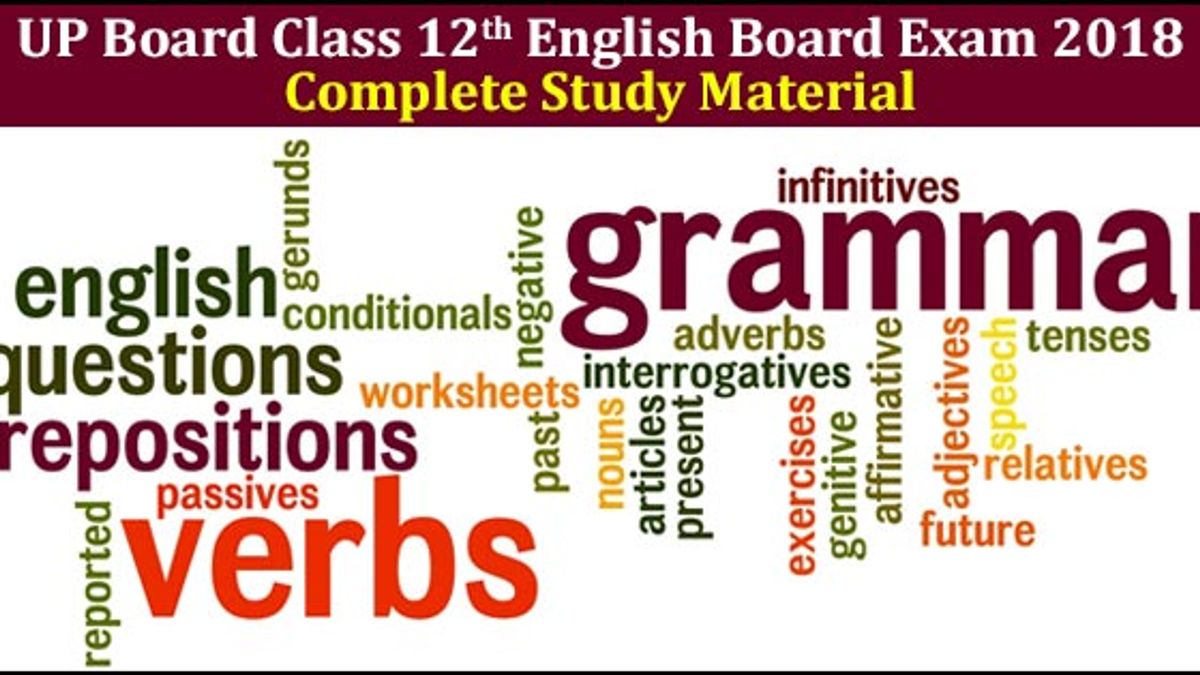 Last moment study package
UP Board class 12th English exam will be conducted on February 24, 2018, for first paper and on February 27, 2018, for second paper of the language subject. Students will be required to appear for the Class 12th English paper at the allotted test centre only and the exam timings are 2:00 pm to 5:15 pm for both papers. The English language is another important subject for UP Board class 12th because it is included in the calculation of aggregate passing marks whether it for admissions to engineering courses, medical courses, commerce courses or Arts courses except for language-specific courses. Therefore, students need to obtain above 80% on this subject so that their aggregate marks can improve.
UP Board Class 12th students can get marks in these subjects easily if they adopt correct strategy and put their 100% efforts for the exam. However, they may be confused with the right strategy because English subject is a language paper and they need a different strategy than mathematics, chemistry, physics or biology. Students need not worry and take exam stress, rather they should follow the last minute tips and study package provided here for preparation of UP Board class 12th English paper.
To develop the best strategy for the examination, students need to analyse the past years' papers for Class 12th English subject of UP Board. After analysing the past year papers, students will get to know about the important topics, type of questions asked for writing skills section as well as reading comprehension and grammar etc. Students can download the UP Board Class 12th English paper 1 and Paper 2 from the table below –
| | | |
| --- | --- | --- |
| Years | Paper 1 | Paper 2 |
| UP Board कक्षा 12 अंग्रेजी प्रश्न पत्र 2017 | | |
| UP Board कक्षा 12 अंग्रेजी प्रश्न पत्र 2016 | | |
| UP Board कक्षा 12 अंग्रेजी प्रश्न पत्र 2015 | | |
| UP Board कक्षा 12 अंग्रेजी प्रश्न पत्र 2014 | | |
| UP Board कक्षा 12 अंग्रेजी प्रश्न पत्र 2013 | | |
| UP Board कक्षा 12 अंग्रेजी प्रश्न पत्र 2012 | | |
| UP Board कक्षा 12 अंग्रेजी प्रश्न पत्र 2011 | | |
UP Board Class 12 English Exam Pattern for Paper 1–
There are 50 questions for paper 1 of English subject.
Students are provided 3 hours 15 minutes to solve the question paper
Before starting writing the answers, students will get 15 minutes to cross-check the question paper and read the instructions
It is compulsory to attempt all questions on the test paper i.e. students must write answers to all 50 questions
Each question has been allotted marks and the questions are divided into one word, MCQs, short answer type, and long answer types
Click here for complete study material for UP Board Class 12th Biology
UP Board Class 12 English Exam Pattern for Paper 2 –
There are 50 questions for paper 2 as well and students will get 3 hours 15 minutes to solve the question paper
Students will get 15 minutes to cross-verify the test paper and read the instructions for the examination
It is compulsory to attempt all questions on the test paper and also optional questions are available for UP Board class 12th English paper 2
Each question has been allotted marks and the questions are divided into one word, MCQs, short answer type, and long answer types
The question number 4 has three parts i.e. I, II, III and students can answer only one part as per their preference
Download the latest syllabus for UP Board Class 12 English Subject
Important Tips and Tricks for the exam day –
Students are advised to carry all important documents like hall ticket, Aadhaar Card as well as pen-pencil for the exam
They should be careful about their handwriting, language including grammar and spelling while writing the answers
They need not panic and should be careful about the exam timings and should allow reasonable time on each section
Do cross-check the answer sheet before submitting and check that no question is left unanswered