Ganga Vilas Cruise: Booking, Ticket Price, Route Map, Journey Duration, Features and More about World's Longest River Cruise
Ganga Vilas, the world's longest river cruise is a new luxury river cruise vessel with 18 suites and all other associated facilities. It has been inaugurated by Prime Minister Narendra Modi on 13th January.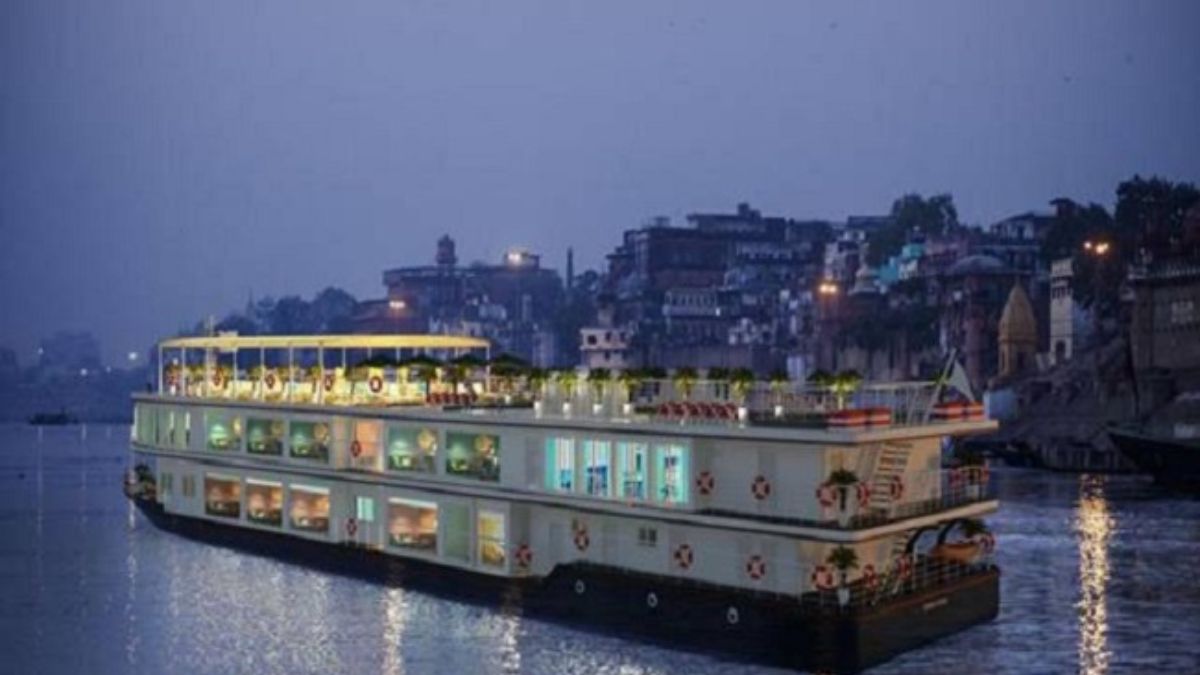 World's Longest River Cruise Ganga Vilas
Prime Minister Narendra Modi today signaled the start of the MV Ganga Vilas, the longest river voyage in the world, in Varanasi, Uttar Pradesh. The inaugural trip to Dibrugarh in Assam via Bangladesh will be undertaken by 32 Swiss tourists. The voyage will take tourists on an experiential journey into luxury, art, culture, history, spirituality, and much more, rather than just a journey.
World's 🌏 #LongestRiverCruise 🛳 to be flagged off by Hon'ble Prime Minister @narendramodi #GangaVilas to start from Varanasi on river #Ganga to Dibrugarh on river #Brahmaputra via Indo🇮🇳-Bangladesh🇧🇩 Protocol route

💠To give an impetus to tourism & employment generation pic.twitter.com/JPS1n786ry

— Ministry of Information and Broadcasting (@MIB_India) January 13, 2023
Today, the world's longest river cruise - Ganga Vilas, has embarked on a journey between Kashi and Dibrugarh.

Due to this, many tourist places of Eastern India are going to benefit. pic.twitter.com/SlE4pvd2Or

— PMO India (@PMOIndia) January 13, 2023
The World's Longest River Cruise opens a window into Indian heritage and glory. The MV Ganga Vilas, which will be launched soon, will be a cruise ship with 18 suites and all associated facilities. This cruise, built with a unique design and a futuristic vision, will meander through various prominent destinations along Kolkata's River Hooghly to Varanasi's River Ganges. The first voyage will be taken by 32 Swiss tourists who have signed up for the entire journey.
Ganga Vilas Journey Duration
The cruise will last 51 days in total. The luxury cruise will travel over 3,200 kilometers through 27 river systems in five Indian and Bangladeshi states. The Ganga Vilas Cruise will stop at 50 tourist destinations, including World Heritage Sites, National Parks, river Ghats, and major cities such as Patna in Bihar, Sahibganj in Jharkhand, Kolkata in West Bengal, Dhaka in Bangladesh, and Guwahati in Assam.
According to official sources, the first voyage of the MV Ganga Vilas will include 32 tourists from Switzerland. The MV Ganga Vilas is scheduled to arrive in Dibrugarh on March 1, 2023.
Why Varanasi is nominated as the first SCO Tourism and Cultural Capital.
Ganga Vilas Cruise Booking
The virgin stretched beaches, lush green mangroves, migrating birds and turtles, freshwater dolphins, meandering water courses, tranquil surroundings interrupted by the chirping of birds and the ever-embracing nature. These are some of Ganga Vilas Cruise's offerings.
Anyone from anywhere in the world can book this incredible experience by visiting Antara Luxury River Cruises' official website. The average fare per person per night is quoted at around Rs.25000.
Ganga Vilas Cruise Route Map
This cruise will travel through 27 river systems in Uttar Pradesh, Bihar, West Bengal, Bangladesh, and Assam, including the three major rivers Ganga, Meghna, and Brahmaputra.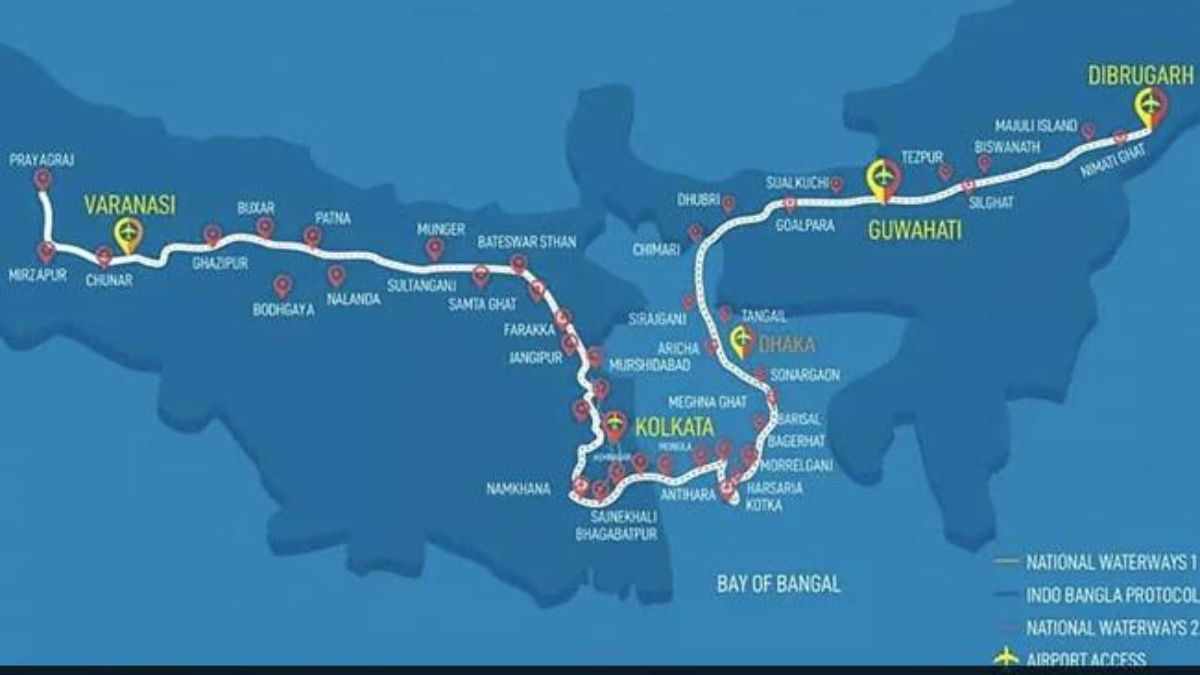 The itinerary of the MV Ganga Vilas has been designed to highlight India's rich heritage, with halts at historical, cultural, and religious sites. It will travel from Varanasi's famous "Ganga Arti" to Sarnath, a Buddhist pilgrimage site. It will also include Mayong, known for its Tantric crafts, and Majuli, Assam's largest river island and Vaishnavite cultural centre. The travellers will also visit the Bihar School of Yoga and Vikramshila University, allowing them to immerse themselves in India's rich spiritual and educational heritage. The cruise will also pass through the biodiversity-rich World Heritage Sites of Sunderbans in the Bay of Bengal delta, known for its Royal Bengal Tigers, and Kaziranga National Park, known for its elephants.
The cruise will pass through the river systems of Bhagirathi, Hooghly, Bidyavati, Malata, and Sundarbans as it travels through West Bengal. It will flow through Bangladesh's Meghna, Padma, and Jamuna rivers before joining the Brahmaputra in Assam. The incredible journey through water will come to an end in Dibrugarh, estimated on 1st March 2023.
Varanasi Ropeway Project: All you need to know.
Ganga Vilas Cruise Top Features
The MV Ganga Vilas vessel measures 62 meters in length, and 12 meters in width, and has a draught of 1.4 meters. It has three decks, 18 suites on board, 40 seater restaurant, and a capacity of 36 tourists. Additionally, the cruise is equipped with amenities like a gym, spa, and salon.
The ship is outfitted with noise-cancellation equipment and a pollution-free system. It will be a truly luxurious experience for the voyagers.
The tourists on the cruise will be served vegetarian Indian cuisine and non-alcoholic assorted beverages. During the serene voyage, tourists will get a chance to indulge in the art, culture, spirituality, and history of India and Bangladesh. Each passenger's total cost for the 51-day trip will be about 20 lakhs, ranging from 25,000 to 50,000 every day.
PM Modi will also laid the groundwork for the North East Maritime Skill Development Centre in Guwahati. It will help to hone the region's rich talent pool and provide better employment opportunities in the burgeoning logistics industry. Furthermore, it will result in significant financial savings because the ship's transportation cost will be reduced, as it takes more than a month to transport a ship to the Kolkata repair facility and back.
Do you know about the Varanasi-Chunar cruise service started by UP Tourism?
FAQ
What is the route map for Ganga Vilas?
This cruise starting from Varanasi will travel through 27 river systems in Uttar Pradesh, Bihar, West Bengal, Bangladesh, and Assam, towards its final destination at Dibrugarh.
Where to book tickets for Ganga Vilas?
One can book tickets for Ganga Vilas through official website of Antara.
What is the ticket price for Ganga Vilas Cruise?
The average rate for Ganga Vilas is Rs. 25000 per night
What is Ganga Vilas cruise?
Ganga Vilas is the world's longest cruise expedition.