Top 10 'What is' searches on Google in India 2019
Nowadays without Google life is incomplete. For anything that we want to know, we do Google. Isn't it! Do you know about the top 10 searches in Google 2019 in the 'What is' category? Let us have a look!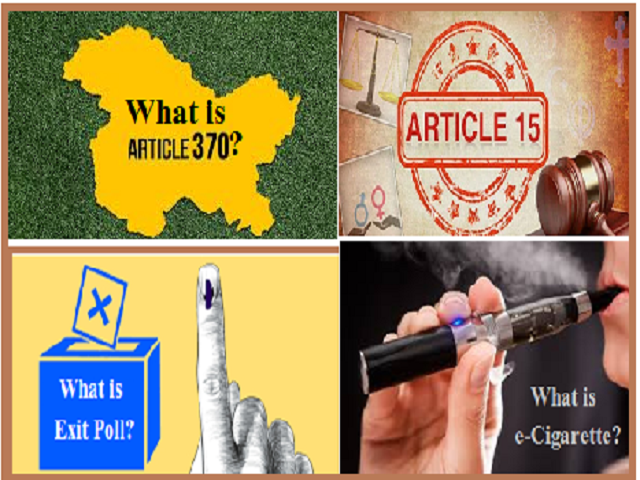 Top 10 'What is' searches on Google in India 2019
According to the anthropological community "If you want to know a society, look at its highest-trending Googled phrases".
Most people use different phrases while searching on Google some of them are what is, how to, where, etc. like what is a black hole, what is Article 370, what is smog, etc.
List of top 10 'What is' searches on Google in India 2019
Article 370 of the Indian Constitution was scrapped by the NDA government on 5 August 2019 except clause 1. Let us tell you that article 370 came into force on 17 November 1952. It is mentioned in Part XXI of the Indian Constitution which grants special status to Jammu and Kashmir. But now Jammu and Kashmir would be a Union Territory with legislative assembly like Delhi and Puducherry.
Exit poll is a survey of voters that is taken soon after a voter cast his or her vote. Or we can say that it predicts the final result from the information collected through several voters. It is done by various organisations with different methods. Exit poll gives an indication of which party forms the government.
Black holes are the dense objects in space through which light cannot escape. As we know that light travels very fast, it means that nothing can escape from inside the black hole. The idea of a black hole was given by John Michell in November 1784 and the term 'Black Hole' was coined by the American astronomer John Wheeler in 1967.
An event was organised in Houston, Texas on 22 September 2019. It was addressed by the Prime Minister of India Narendra Modi and the President of the US, Donald Trump. Around 50,000 people of Indian origin from across the US attended the event. In Texas Howdy is the way of greeting people which means 'How are you' and so PM Narendra Modi was also greeted and welcomed by saying Howdy Modi and event became famous as Howdy Modi event.
e-Cigarette is also known as an electronic cigarette. It is a device that looks like an ordinary cigarette and is designed similar to cigarettes and cigars. Let us tell you that e-Cigarette has a battery that converts the nicotine solution into a mist that can be inhaled into the lungs. It does not contain tobacco.
6. What is Duckworth–Lewis–Stern method?
This method was invented by Frank Duckworth and Tony Lewis. In 1996-97, DLS method was the first time used in a match that was played between Zimbabwe and England. In 1999, it was approved by the ICC. Basically, this method was used to decide the result of the match when it is interrupted by the rain.
It is the longest-running battles in India's legal history which is now concluded. Around 134 years ago, the first case named Ayodhya dispute was filed. According to Hindu Mythology, Ayodhya is the birthplace of Lord Rama. The Ayodhya case is for the plot of land which is in the city of Ayodhya, Uttar Pradesh. The main issue was to control the site among Hindus which they considered as the birthplace of deity Rama, the location of Babri Masjid at the site. It was a mess that previously Hindu temple was demolished or modified to create the mosque. On 6 December 1992, the Babri Masjid was destroyed in a political rally which turned into a riot.
Article 15 is incorporated in Part III of the Indian Constitution that deals with the fundamental rights of the citizens of India. These rights are guaranteed to all persons by the Constitution of India without any discrimination of caste, religion, race, sex, etc.
The Surgical strike is a proper planned militant affair to destroy legitimate military, camps, arms and kill terrorists. In this, forces do not harm innocent people and public property including vehicles, buildings, infrastructure, and utilities. Let us tell you that this type of operation required great coordination and cooperation between government, intelligence agencies and the security forces for the success.
10. What is National Register Citizens (NRC) of India?
The National Register of Citizens is a register that contains the names of Indian citizens. For the first time, NRC was prepared in 1951. The demand to update NRC was raised by the All Assam Students Union since 1975. The main objective behind updating of NRC in the Assam is to identify foreign nationals and Indian nationals. The ruling NDA government is planning to update the NRC throughout the country.
These are the top 10 'What is' searches on Google in India 2019.