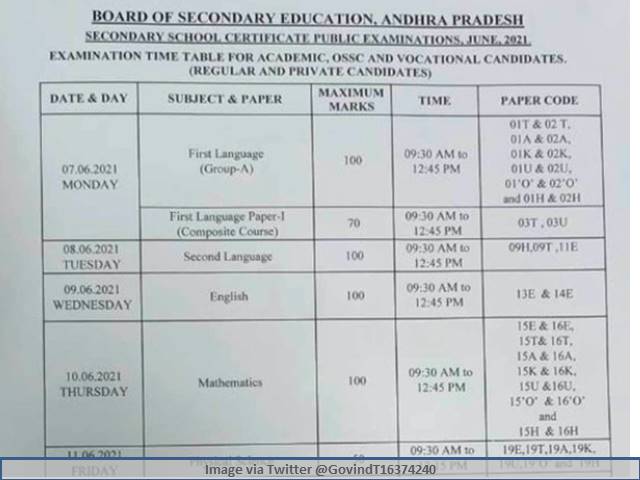 AP SSC Exam 2021 Date Sheet Released: The Board of Secondary Education, Andhra Pradesh has formally released the AP SSC Exam 2021 Time Table for the upcoming Board Exams. The SSC Board has released the examination Time Table for Academic, OSSC and Vocational Candidate – Regular and Private Candidates. As per the date sheet released today, the AP 10th Class Board Exam 2021 is scheduled to commence from 7th June 2021. As of now, the official AP 10th time table 2021 has not been published on the website of the board i.e. bseap.org. However, the document has been available widely on social media platform through accounts of various media agencies. To make accessing the official exam time table released by the board, students can check and download the detailed BSEAP SSC Exam 2021 Time Table in PDF format from the link given below:
Download AP SSC Exam 2021 Time Table – Direct Link (Available Now)
Datesheet Released by Education Minister
As per media reports, the Andhra Pradesh State Education Minister Adimulapu Suresh formally announced the AP SSC Exam 2021 dates today. While announcing the exam dates, he noted that the exams will be held for seven papers, of which three are languages, two are group subjects and two are of science papers. Mr Suresh also noted that all paper except for Science papers will be of 100 marks each. He also confirmed that owing to the pandemic and lockdown measures, the state government had reduced school syllabus by 35% and the same would be followed for the SSC Board Exams.
Last Work Day for Class 1 to 9 and Class 10 Students
Along with announcing the SSC Board Exam Dates, Education Minister also said that the last classroom day for class 10 will be 5th June. He also confirmed that the last working day for Class 1 to 9 students would be 15th May with the annual exams scheduled to be held from 3rd and 10th May 2021. Summer Vacation for Class 1 to 9 students would be from 16th May to 30th June and the new session would begin from 1st July 2021.
Subject-wise Date Sheet for AP Board SSC Exam 2021
Along with announcing the examination dates for Class 10 Board Exams, the BSEAP has also released the detailed subject-wise date sheet for the upcoming SSC Exams. As per the time table, the SSC Exams are slated to commence from 7th June 2021 with first language paper while the last paper is scheduled to be held on 16th June 2021. The exams will only be conducted in single shift i.e., from 09:30 am to 12:45 pm barring few exams those will be conducted up to 11:30 am (see the table below). Students can find the detailed subject-wise AP SSC Exam 2021 Date Sheet below:
Date

Subject

Monday, 7 June, 2021

First Language (Group-A)
First Language Paper-I
(Composite Course)

Tuesday, 8 June, 2021

Second Language

Wednesday, 9 June, 2021

English

Thursday, 10 June, 2021

Mathematics

Friday, 11 June, 2021

Physical Science

Saturday, 12 June, 2021

Biological Science

Sunday, 13 June, 2021

Holiday / Break

Monday, 14 June, 2021

Social Studies

Tuesday, 15 June, 2021

First Language Paper-II
(Composite Course)
OSSC Main Language Paper-I
(Sanskrit, Arabic, Persian)

Wednesday, 16 June, 2021

OSSC Main Language Paper-II
(Sanskrit, Arabic, Persian)
SSC Vocational Course (Theory)