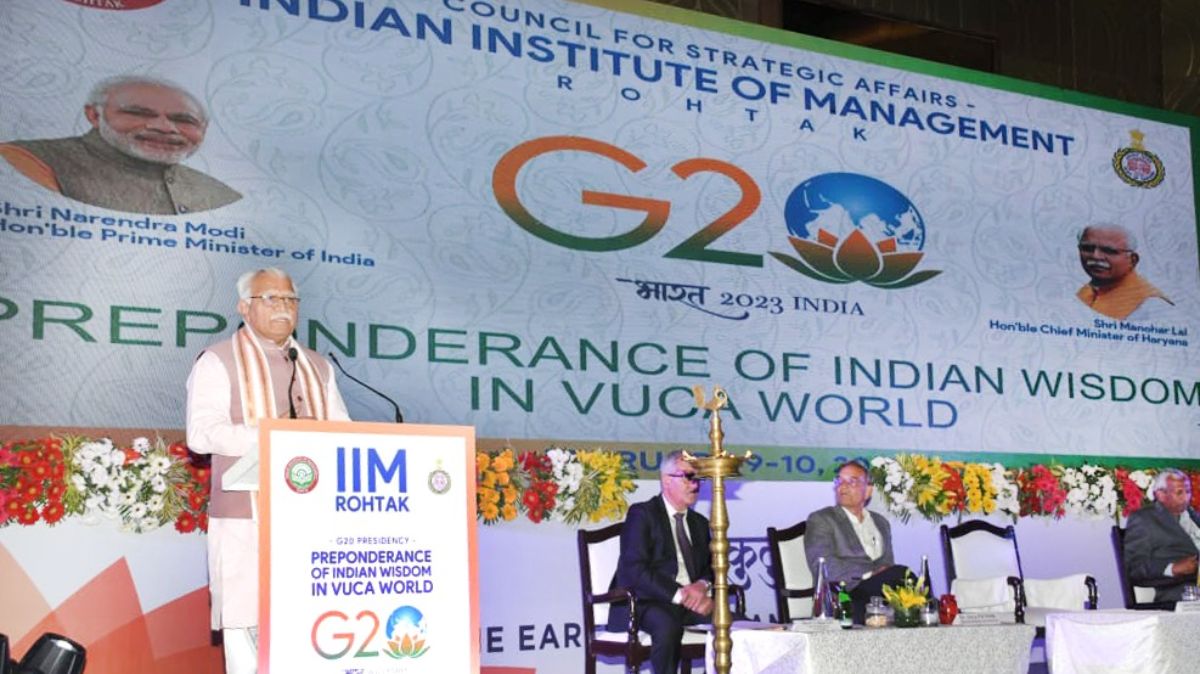 CBSE Term 2 Accountancy Syllabus- Class 11th
The Chief Minister of the Haryana state Manohar Lal Khattar inaugurated India's G20 Presidency Summit 2023. This event was organized by IIM Rohtak on February 9, 2023 (Thursday). The Council for Strategic Affairs centre at IIM Rohtak has conducted the G20 Summit event namely "Preponderance of Indian Wisdom in VUCA World" at Westin Hotel, MG Road, Gurugram.
देश को 5 ट्रिलियन डॉलर की अर्थव्यवस्था बनाने के प्रधानमंत्री श्री @narendramodi जी के सपने को साकार करने हेतु हरियाणा सरकार अथक प्रयास कर रही है।

आज गुरुग्राम में #G20 अध्यक्षता को लेकर IIM, रोहतक द्वारा आयोजित कार्यक्रम को संबोधित किया। pic.twitter.com/WJGxwuo5eX

CBSE Term 2 Accountancy Syllabus- Class 11th

— Manohar Lal (@mlkhattar) February 9, 2023
As per the official announcement, there were several keynote speakers at the event including Adarsh Kumar Goel, Chairman, of the National Centre Tribunal, along with Dr Satyapal Singh, a Member of Parliament. Moreover, various delegates from Tajikistan, Bangladesh, Afghanistan, Greece, Argentina, Canada, and Switzerland attended the programme.
The Indian Institute of Management (IIM) Rohtak further informed that around 300 participants were in person whereas 1100 joined online from different parts of India as well as overseas.
CBSE Term 2 Accountancy Syllabus- Class 11th
VOCA World
Haryana CM congratulated the prestigious IIM Rohtak on this initiative for hosting the G20 Summit 2023 in Gurugram, Haryana. Additionally, he stated that with Indian Wisdom, the challenges of the VOCA World can be overcome. Also, V of volatile can be changed to vision, likewise U of uncertainty to understanding, C of complexity to clarity, as well as A of ambiguity to agility.
This present year 2023, India will also organize the G20 Leaders' Summit for the first time across the country.
CBSE Term 2 Accountancy Syllabus- Class 11th
IIM Rohtak, with Council for Strategic Affairs, organized the G20 Presidency on the theme "Vasudhaiva Kutumbakam," or "One Earth, One Family, One Future."

The event was inaugurated by Mr. Manohar Lal Khattar, Hon'ble Chief Minister of Haryana. pic.twitter.com/H6VZZ1znBq

— IIM Rohtak (@IIM_Rohtak) February 9, 2023
Theme of G20 Presidency Summit 2023
The theme of the G20 Summit 2023 is "Vasudhaiva Kutumbakam" which implies that the World is one family, one Earth, and one future. It aims to encourage global solutions and collaborations among major developed and emerging nations. The goal is also to recognize the significance of collective and united actions.
CBSE Term 2 Accountancy Syllabus- Class 11th
The Director of IIM Rohtak, Professor Dheeraj Sharma declared at the event that at present, the world is recognising traditional Indian wisdom in all walks of life. Indian wisdom can also be seen in "aahaar hi aushadhi hai" which is projected in the contemporary world. The world is extensively escalating towards preventive healthcare and away from curative. It was also stated that stable growth rather than faster growth would be the correct solution to reach the ultimate goal of demonstrating India.
CBSE Term 2 Accountancy Syllabus- Class 11th
Also Read: IGNOU January Admissions 2023: Registrations Close Today at ignou.ac.in, Know How to Apply Here