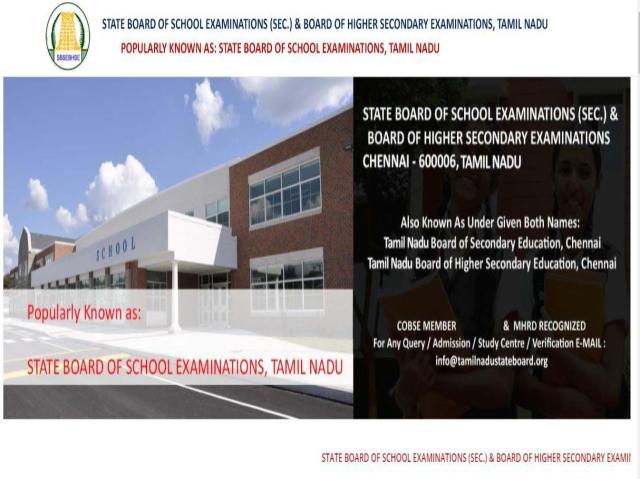 TN 12th Result 2021 Evaluation Criteria: As per the latest update, the Tamil Nadu State Government has announced the Evaluation Criteria for Tamil Nadu HSC Result 2021 for Class 12 students after the Board exams were cancelled due to the COVID-19 pandemic. As per the evaluation scheme, TNDGE would follow the 50:20:30 Formula to prepare TN Class 12 Result 2021.
Details regarding the evaluation criteria for Tamil Nadu class 12 students are available on the official website of Tamil Nadu State Board - tamilnadustateboard.org. The TN Class 12 students will be evaluated based on the marks obtained in class 10, 11, and 12 internal and practical examinations
TN 12th Evaluation Scheme
According to the evaluation scheme mentioned, the main part of the results will be taken from the marks obtained in class 10 with a weightage of 50 percent. 20 percent weightage will be given to the class 11 marks of the students and the remaining 30 percent weightage will be given to the Class 12 internal marks.
According to the evaluation criteria, the highest mark average secured in three subjects will be taken from class 10. The marks secured in class 11 written exams and class 12 practical and internals will be taken for the remaining percentage marks.
Offline Examinations
As per the information provided, the students who are not satisfied with the evaluation criteria will be able to opt for an offline examination which will be conducted by the government when the situation is favourable for conducting the exams.
The TN board class 12 examination results will be declared in July 2021. Students awaiting the Tamil Nadu board class 12 results are advised to keep visiting the official website of the board for further updates.
Also Read: JEE Advanced 2021 Information Brochure Released at jeeadv.ac.in, Know Key Dates, Registration Details Here