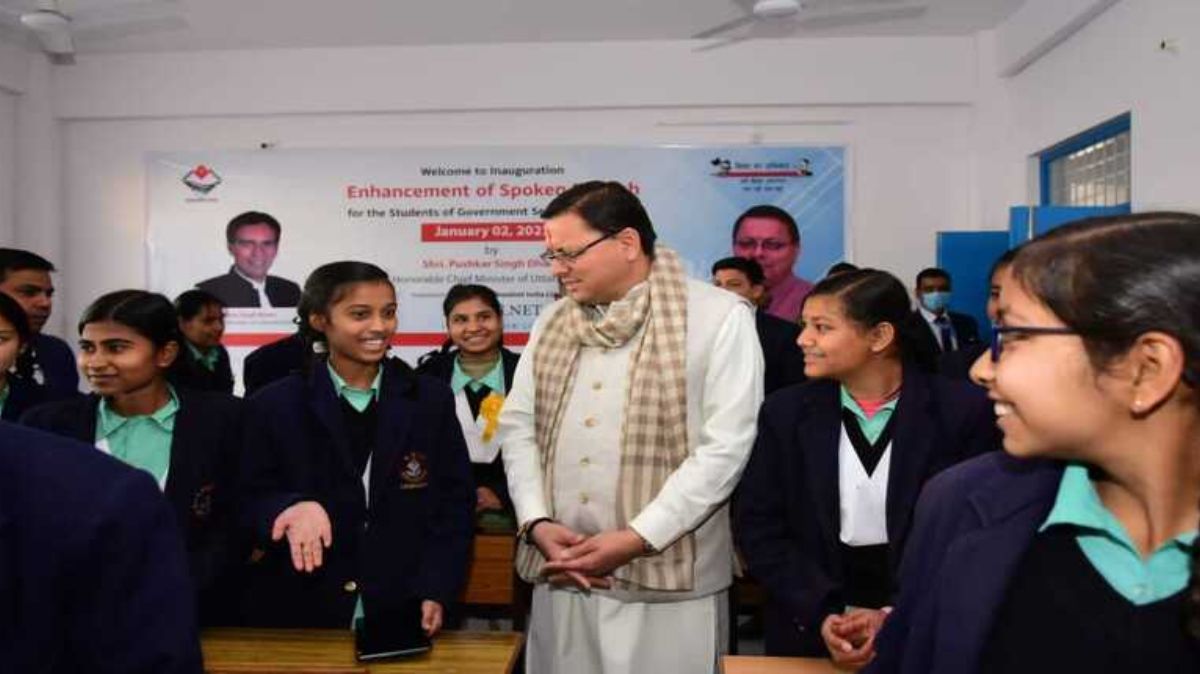 Uttarakhand Govt Schools: Uttarakhand Chief Minister Pushkar Singh Dhami held an inauguration of Sampark FLN TV and Sampark Science TV for state government schools. This progressive step has been taken towards the conversion of all government school classrooms into smart technology classrooms.
Sampark FLN TV is a technologically advanced device that has the ability to convert any television into an interactive learning platform. This can provide students with effective preloaded lessons featuring quizzes, worksheets as well as animated content.
Moreover, one of the major benefits is that it works offline i.e. without any internet. Sampark Foundation will grant these free plug-and-play devices along with free content available effortlessly.
साथ ही स्मार्टशाला टी.वी. डिवाइस तथा स्पोकन इंग्लिश कार्यक्रम का भी शुभारंभ किया। GGIC कौलागढ़ का नाम पूर्व विधायक स्व. हरबंस कपूर जी के नाम पर रखा जाएगा। समाज के हर वर्ग को शिक्षा से जोड़ने हेतु व शिक्षा में गुणात्मक सुधार के लिए हमारी सरकार सतत क्रियाशील है। pic.twitter.com/FXprshRcZI

— Pushkar Singh Dhami (@pushkardhami) January 2, 2023
Modern Technology Set-Up by CM
Sampark Smartshala has been created and developed for all government school-going students studying in various classes. This initiative was led by Pushkar Singh Dhami on January 2, 2023. The main objective of this programme is to promote quality and accessible education across the state through the efficient use of modern technology.
Mr Dhami announced that this would reach out to around 11,000 schools in the state. The initiative holds much significance for all children residing in remote areas of the Uttarakhand state.
The smart class project workshop was also attended by State Education Minister Dhan Singh Rawat. On the day of the Smart class launch, Mr Dhami reported that Education should be widespread across all areas with the smart usage of technologically enhanced tools and techniques to be implemented with this smart class initiative.
Importance of Education
The Education Minister of Uttarakhand, Mr Rawat discussed the elevating importance of Education in the contemporary era of technology and continuous upgradation in different sectors. It has become essential that education is encouraged and expanded through advanced technological tools in distant and backward areas.
Sampark Smartshala is a useful step in this direction. During the initial phase of the programme, Sampark FLN TV devices will be made available in 100 government schools built around the state that can impact over 17,000 students. A total number of 200 teachers will be trained to use the smart platform to its fullest potential. This smartrclass project launch was organized at Girls Inter college located in Kaulagarh in which Sampark Foundation founder Vineet Nayar was also present at the event who is also from Uttarakhand.
Also Read: SEED 2023: Registrations to Close Tomorrow, Apply at sid.edu.in
REGISTER FOR RESULTS UPDATES