Top 10 Weekly Current Affairs: 18 November to 23 November
The Cartosat-3 and 13 other nanosatellites will be launched by the ISRO on November 25, 2019.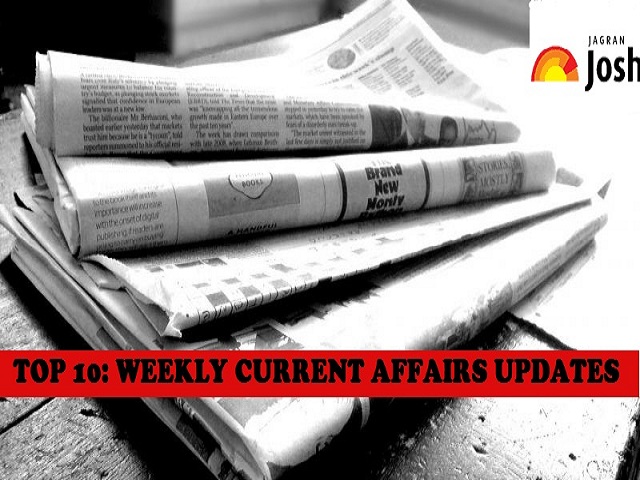 Weekly Current Affairs
FASTag countdown begins: Get the tag before December 1 to avoid paying double
The National Highways Authority of India (NHAI) will make FASTag facility mandatory on all the toll plazas with effect from December 1, 2019. FASTag facility uses the Radio Frequency Identification technology to carry out the toll payments directly from the prepaid account.
Arundhati Scheme: Assam Govt to gift 10 gm of gold to every bride
Assam Government announced to launch the 'Arundhati Swarna Yojana' to offer 10 grams gold as a gift to a bride during her marriage if she fulfils the criteria laid under the scheme and has registered her marriage. The Scheme will be effective from January 1, 2020.
Mahinda Rajapaksa sworn in as Sri Lanka PM: All you need to know
Mahinda Rajapaksa, the former President of Sri Lanka, was appointed as Prime Minister of the country on November 20, 2019. His appointment was approved by incumbent President and his brother Gotabaya Rajapksa.
Fortune's Businessperson of the Year 2019 list: Satya Nadella grabs top spot
Microsoft CEO Satya Nadella topped the list of Fortune's Businessperson of the Year 2019. The list features three Indian-origin people including Satya Nadella, Master Card CEO Ajay Banga and Arista head Jayashree Ullal.
TRS MLA Ramesh Chennamaneni's Indian citizenship revoked by MHA
Indian citizenship of TRS MLA Ramesh Chennamaneni was recently revoked by the Union Ministry of Home Affairs for concealing facts from the Government. Telangana MLA Chennamaneni had secretly acquired the German citizenship, of which, the Government had no clue.
NRC to cover all citizens of India: Home Minister Amit Shah
The process of National Register of Citizen (NRC) will now be carried out across India. The announcement regarding this was made by Union Minister of Home Minister, Amit Shah in the Rajya Sabha on November 20, 2019. No Indian citizen will be left out of the NRC list.
Google Stadia: Price, launch countries, launch titles and all you need to know!
New cloud-based gaming service Google Stadia has been launched across 14 countries recently. The game was launched with 22 launch titles such as Tomb Raider and Assassin's Creed Odyssey and can only be accessed on Pixel phones.
David Attenborough conferred with Indira Gandhi Prize for Peace
Sir David Attenborough, a renowned naturalist, was recently awarded the Indira Gandhi Prize for Peace, Disarmament and Development 2019 for his efforts towards spreading awareness about the need to protect and preserve nature.
ISRO to launch Cartosat-3, 13 commercial nanosatellites from the US
The Cartosat-3 and 13 other nanosatellites will be launched by the ISRO on November 25, 2019. The satellites will be launched from the US. The Cartosat-3 is a high-resolution imaging satellite that will be launched to enhance India's border security.
Indian boxer Sarita Devi elected to AIBA athletes commission
Indian boxer Sarita Devi was elected as a Member of the AIBA Athletes Commission recently. She was nominated from the Asian region. The AIBA Athletes Commission now comprises six boxers as its Members from five different continents.