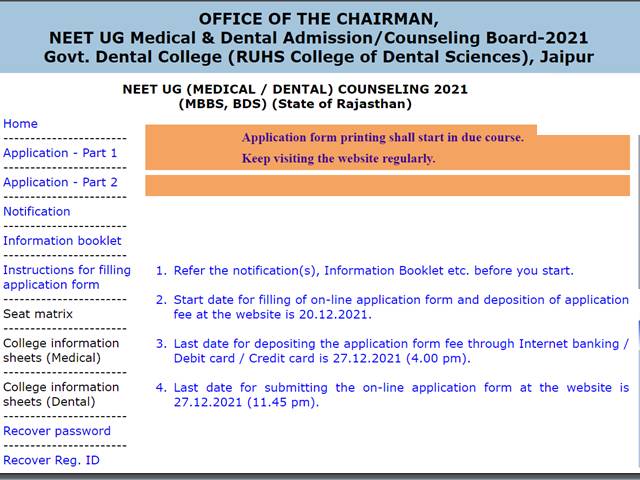 Rajasthan NEET Counselling 2021: The Medical Education Department of Rajasthan State will release the Provisional List for Document Verification for candidates who will be participating in the Rajasthan NEET Counselling 2021. The provisional list for document verification will contain the names of the candidates who have applied for MBBS and BDS admissions under the state quota. Candidates should also note that NEET UG Medical and Dental Admission/Counseling Board-2021, Government Dental College (RUHS College of Dental Sciences), Jaipur, is conducting Rajasthan NEET counselling 2021. Candidates will be able to check their document verification status online by logging on the exam portal at rajneetug2021.com. Alternatively, to help candidates check the same, a direct for the same will be provided below as well:
Check Rajasthan NEET Counselling 2021 Document Verification Status – Direct Link (Available Soon)
Complete Document Verification by 3rd January
The list of candidates being released today by the Medical Education Department, Rajasthan State will contain the names of the students who are eligible to participate in the document verification process. All candidates who are featured on this list will be required to complete the document verification by following the due process. The last date to complete Document Verification for Rajasthan NEET Counselling 2021 is 3rd January 2022. Dates for further MBBS and BDS admission-related events will be announced later by the Medical Education Dept.
How to check Rajasthan NEET Counselling 2021 Provisional Allotment List?
Like all other aspects of Rajasthan NEET Counselling 2021, the release of provisional list for document verification will be done online via the official portal. Candidates are advised to follow the simple directions provided below to check their allotment status for the document verification:
Step 1: Log onto the exam portal i.e. rajneetug2021.com
Step 2: Find and click on link for provisional list
Step 3: Input the details or credentials as asked on the website
Step 4: Your Rajasthan NEET UG counselling provisional list will be displayed on the screen
Step 5: Check status for your application using your application number or other details
While the counselling process for State Quota Seats under Rajasthan NEET Counselling 2021 is currently underway, the counselling for AIQ – All India Quota seats is still pending. MCC or the Medical Counselling Committee, which administers MBBS and BDS counselling for the 15 per cent all India quota (AIQ) seats is expected to announce the NEET UG counselling dates soon on its official website i.e. mcc.nic.in.
Also Read: NEET Counselling 2021: List of State Which have Started MBBS, BDS Counselling Process for Medical Admissions