30 Most Important Current Affairs of October 2018
Jagranjosh.com brings to you October 2018 monthly recap that summarises the top current affairs of the month, covering topics such as the Statue of Unity, Rafale deal, Ayodhya Verdict, #MeToo movement, 2018 Seoul Peace Prize, Sovereign Gold Bonds scheme, Citizenship (Amendment) Bill, 2016 and Nobel Prize 2018 among others.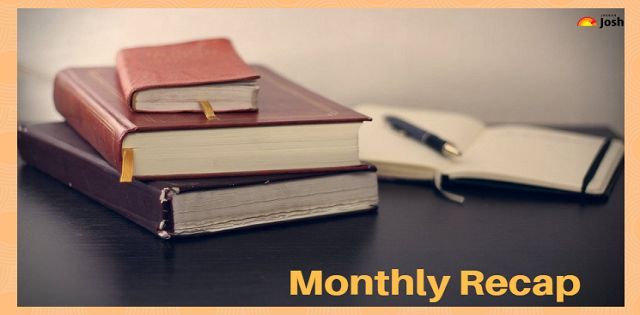 30 Most Important Current Affairs of October 2018
1. PM Modi unveils world's tallest statue 'Statue of Unity'
Prime Minister Narendra Modi on October 31, 2018 unveiled the bronze statue of India's first deputy prime minister, Sardar Vallabhbhai Patel at Kevadia in Gujarat's Narmada district.
The 'statue of unity' dedicated to the 'Iron Man of India' has been constructed on a river island called the Sadhu Bet on the Narmada river in Kevadiya town.

At 182 metres, the statue of Sardar Vallabhbhai Patel will be the tallest statue in the world, surpassing the height of Spring Temple Buddha in China, which had previously held the record at 153 metres.
2. Rashtriya Ekta Diwas 2018 observed to commemorate 143rd birth anniversary of Sardar Patel
India observed Rashtriya Ekta Diwas, also known as National Unity Day, on October 31, 2018 to commemorate the 143rd birth anniversary of Sardar Vallabhbhai Patel, the Iron Man of India.

On this occasion, Home Minister Rajnath Singh flagged off the 'Run for Unity' from Major Dhyanchand Stadium. He also administered unity pledge to the participants.

Prime Minister Narendra Modi dedicated world's tallest 'Statue of Unity' to the nation at Kevadiya in Narmada district of Gujarat. The Prime Minister also unveiled the 'Wall of Unity', a wall created with the earth samples collected from various states across the country.
3. Ayodhya Verdict: Supreme Court adjourns hearing till January 2019

The Supreme Court of India on October 29, 2018 adjourned the hearing on pleas challenging the Allahabad High Court verdict in the Ramjanambhoomi-Babri Masjid site title dispute to January 2019.

The decision was taken by a three-judge bench of the Supreme Court comprising Chief Justice of India (CJI) Ranjan Gogoi and Justices SK Kaul and KM Joseph. The apex court will in January fix the date for commencing hearing on the matter. Hence, the hearing may be in January, February, March or anytime after that, as per clarification by Chief Justice Ranjan Gogoi.
The court stated that an appropriate bench, which will be constituted to hear the matter, will decide the date of the hearing. The decision comes nearly a month after a ruling by SC that there was no need to look into the top court's observations in its 1994 judgment that a mosque was not integral to Islam.
4. Rafale Combat Aircraft: Everything you need to know!
India in September 2016 signed an Inter-Governmental Agreement (IGA) with France to procure 36 Rafale fighter jets in fly-away condition for €7.8 billion.

Introduced in 2001, Rafale is a twin-engine, canard-delta wing, multirole combat aircraft designed and built by French company Dassault Aviation. The aircraft is considered one of the most potent combat jets globally.
The fighter jet, equipped with a wide range of weapons, is intended to perform air supremacy, interdiction, aerial reconnaissance, ground support, in-depth strike, anti-ship strike and nuclear deterrence missions.
5. Justice Ranjan Gogoi sworn in as 46th Chief Justice of India
Justice Ranjan Gogoi was sworn in as the 46th Chief Justice of India (CJI) on October 3, 2018. He succeeds CJI Dipak Misra who retired a day before on October 2, 2018.
CJI Misra on September 4 had recommended Justice Ranjan Gogoi as his successor, as per the established practice of naming the senior-most judge after the CJI for the post. The recommendation was processed to President Kovind to issue the warrant of appointment, which was confirmed on September 13.
Justice Gogoi will have tenure of a little over 13 months, as he is set to retire on November 17, 2019. He has become the first Supreme Court judge from the north-east to be appointed as Chief Justice of India.
6.#MeToo movement: Union Minister MJ Akbar resigns from his post over sexual harassment charges

Union Minister of State for External Affairs, MJ Akbar resigned from his post on October 17, 2018 over sexual harassment charges levelled against him by several women journalists in the wake of #MeToo movement.

Akbar's resignation came two days after he filed a criminal defamation complaint in a Delhi's Patiala House Court against journalist Priya Ramani, who was the first to put #MeToo allegations against Akbar. Following Ramani's complaint, as many as 20 women came out in support of Priya Ramani, accusing Akbar of sexual harassment.
7. Gita Gopinath becomes first woman Chief Economist at IMF

India-born Gita Gopinath was appointed as the Chief Economist of the International Monetary Fund (IMF) on October 3, 2018, becoming the first woman to hold the position. She has also become the second Indian to hold the position, after former RBI Governor Raghuram Rajan.

Gopinath would be succeeding Maurice Obstfeld, who is to retire at the end of 2018. She will be assuming the post of economic counselor and director of the IMF's Research Department.

Gopinath is the third woman in the history of Harvard to be a permanent member of its esteemed economics department and the first Indian since the Nobel laureate Amartya Sen to hold that position. She became a tenured Professor there in 2010.
8. Chanda Kochhar quits as ICICI Bank CEO,MD

The ICCI Bank CEO and MD, Chanda Kochhar quit her position with immediate effect on October 4, 2018. The announcement came after her plea for early retirement was accepted by the bank.

Kochhar, who had headed ICICI Bank since May 2009, is also stepping down from the board of directors of its units. Her third term was set to end in March 2019. Sandeep Bakhshi, who was appointed as the bank's COO in June 2018, has been named to succeed Kochhar as the bank's new Managing Director and Chief Executive Officer. Bakhshi has been appointed for a period of five years until October 3, 2023, subject to various approvals.
In June, Kochhar went on a forced leave till the completion of an independent investigation into charges of conflict of interest against her in a case of her husband being a beneficiary of loans from the bank's borrowers.
9. PM Modi receives UN's Champions of the Earth award

Prime Minister Narendra Modi received the UN Champions of the Earth award, the highest environmental honour of the United Nations on October 3, 2018. The award was presented by UN Secretary General Antonio Guterres at a special ceremony in New Delhi.
Prime Minister Modi has been selected in the leadership category for his pioneering work in championing the International Solar Alliance, a global partnership to scale up solar energy. Through the award, the UN Environment is recognising Modi for his bold environmental leadership on the global stage.
The award is also in recognition of Modi's unprecedented pledge to eliminate all single-use plastic in India by 2022.
10. PM Narendra Modi awarded with prestigious Seoul Peace Prize 2018

The Seoul Peace Prize Committee on October 24, 2018 conferred the 2018 Seoul Peace Prize on Prime Minister Narendra Modi for his contribution to world peace through his economic vision, 'Modinomics'. With this, PM Modi became the 14th recipient of this coveted award.
The committee assessed over a hundred candidates proposed by over 1300 nominators from around the world and decided to bestow the Prize on PM Modi, calling him 'the perfect candidate for the 2018 Seoul Peace Prize'.
The committee recognised Modi's contributions to the growth of the Indian and global economies, crediting 'Modinomics' for reducing social and economic disparity between the rich and the poor.
11. Frances H. Arnold, George P. Smith, Sir Gregory P. Winter win 2018 Nobel Prize in Chemistry

The Royal Swedish Academy of Sciences on October 3, 2018 awarded the 2018 Nobel Prize in Chemistry with one half to Frances H. Arnold "for the directed evolution of enzymes" and the other half jointly to George P. Smith and Sir Gregory P. Winter "for the phage display of peptides and antibodies".

The all three of them harnessed the power of evolution which is revealed through the diversity of life. They took control of evolution and used it for purposes that bring the greatest benefit to humankind.
Enzymes produced through directed evolution are used to manufacture everything from biofuels to pharmaceuticals.
12. James P. Allison, Tasuku Honjo jointly awarded with 2018 Nobel Prize in Physiology or Medicine

The Nobel Assembly at Karolinska Institutet on October 1, 2018 awarded the 2018 Nobel Prize in Physiology or Medicine jointly to James P. Allison and Tasuku Honjo "for their discovery of cancer therapy by inhibition of negative immune regulation".
Cancer kills millions of people every year and is one of humanity's greatest health challenges. The laureates James P. Allison and Tasuku Honjo successfully established an entirely new principle for cancer therapy by stimulating the ability of immune system to attack tumour cells.
13. Denis Mukwege, Nadia Murad win 2018 Nobel Peace Prize

The Norwegian Nobel Committee on October 5, 2018 awarded the 2018 Nobel Peace Prize to Denis Mukwege and Nadia Murad "for their efforts to end the use of sexual violence as a weapon of war and armed conflict".

Both Mukwege and Murad made a crucial contribution to focus attention on combating war crimes. Both of them have helped to give greater visibility to war-time sexual violence, so that the perpetrators can be held accountable for their actions.
14. Aung San Suu Kyi becomes first person to lose honorary Canadian citizenship

Myanmar leader Aung San Suu Kyi on October 3, 2018 became the first person to be stripped of the honorary Canadian citizenship for her role in gross human rights violations against the Rohingya people.

The Canadian Senate formally revoked the symbolic honour that was bestowed on Suu Kyi in 2007. Senators unanimously adopted a genocide motion tabled by Independent Senator Ratna Omidvar in the red chamber.

Senator Ratna Omidvar said that "We need to send a strong signal here in Canada and around the world that if you're an accomplice of a genocide, you are not welcome here. Certainly not as an honorary Canadian citizen."
15. Global temperature could exceed 1.5°C in just 12 years: UN report

The Intergovernmental Panel on Climate Change (IPCC) approved a Special Report on Global Warming of 1.5°C on October 6, 2018 at Incheon, South Korea. In the new assessment, IPCC issued its the most extensive warning on the risks of rising global temperatures and said that limiting global warming to 1.5°C would require rapid, far-reaching and unprecedented changes in all aspects of society.

The special report titled 'Global Warming of 1.5°C' traces the impact of global warming of 1.5°C above pre-industrial levels and related global greenhouse gas emission pathways, in the context of strengthening the global response to the threat of climate change, sustainable development and efforts to eradicate poverty. The report says that going past 1.5°C is dicing with the planet's liveability and the temperature could be exceeded in just 12 years, by 2030.
16. Government launches Sovereign Gold Bond Scheme 2018 -19: Important Information & FAQs

The Union Government, in consultation with the Reserve Bank of India (RBI), on October 8, 2018 decided to issue Sovereign Gold Bonds 2018-19.

The Sovereign Gold Bonds will be issued every month from October 2018 to February 2019 through banks, Stock Holding Corporation of India Limited (SHCIL), designated post offices, and recognised stock exchanges such as the National Stock Exchange and Bombay Stock Exchange. The Bonds will be issued by Reserve Bank India on behalf of the Government of India.
The Sovereign Gold Bonds are government securities denominated in grams of gold. They are substitutes for holding physical gold. One need to pay the issue price in cash for purchasing the bonds and the bonds can be redeemed in cash on maturity.
17. Nikki Haley resigns as US Ambassador to United Nations

Indian-American Nikki Haley on October 9, 2018 resigned as the United States Ambassador to the United Nations. President Donald Trump made the formal announcement of her resignation and applauded her work. He cited that Haley wanted to take a break.
Haley, former South Carolina governor, gave no reasons for her exit, however, dismissed speculations that she was planning to run for Presidential bid in 2020. Rather, she said she would be campaigning for Trump's re-election in two years from now.

Her resignation just ahead of the crucial mid-term elections in November 2018 came as a shock and surprise to the American foreign policy and national security experts who believe it is a big loss to the Trump Administration.
18. Coca-Cola, PepsiCo, and Nestle found to be worst plastic polluters: Break Free From Plastic Movement

The 'Break Free From Plastic Movement' on October 9, 2018 revealed that Coca-Cola, PepsiCo, and Nestle are among the companies that contribute most to ocean pollution with single-use plastics.

As per the study, Coca-Cola, Pepsi and Nestle were the most frequent companies in contributing to ocean pollution, identified in 239 cleanups and brand audits spanning 42 countries and six continents. Over 187,000 pieces of plastic trash were audited, identifying thousands of brands which package their products in the single-use plastics that pollute oceans and waterways globally.
19. IMF predicts India to grow at 7.3 per cent in 2018-19

India's growth rate is predicted to increase to 7.3 per cent in 2018 and 7.4 per cent in 2019, as per the latest World Economic Outlook report released by the International Monetary Fund (IMF) on October 9, 2018. In 2017, India had recorded a growth rate of 6.7 per cent.

The latest growth prediction for India, however, is slightly lower than what was predicted in April 2018 World Economic Outlook for 2019 due to the recent increase in oil prices and tightening of global financial conditions.
According to the report, the acceleration reflects a rebound from transitory shocks (the currency exchange initiative and implementation of the national Goods and Services Tax), with strengthening investment and robust private consumption.
20. Global Hunger Index 2018: India ranks 103rd out of 119 countries

As per the 2018 Global Hunger Index (GHI), published on October 10, 2018, the level of hunger and undernutrition worldwide fell to 20.9, down from 29.2 in the year 2000. India was ranked 103rd out of 119 qualifying countries.

South Asia's child wasting rate constitutes a critical public health emergency. The child wasting rate for the region is amplified by India, which has the region's largest population and highest level of child wasting at 21 percent. In South Asia and Africa south of the Sahara, the rates of undernourishment, child stunting, child wasting and child mortality are unacceptably high.
21. World Bank launches first Human Capital Index, Singapore tops list

The World Bank launched its first Human Capital Index (HCI) in Bali, Indonesia on October 11, 2018, as part of the World Development Report 2019. The index ranks countries based on their success in developing human capital.

The index ranks 157 countries based on their education and health outcomes and the impact they are having on productivity. While Singapore tops the rankings, African countries occupying the bottom spots.
For India, the report stated that children born in India today will be only 44 per cent as productive when they grow up as they could be if they enjoyed complete education and full health.
22. Asian Para Games 2018: India records best-ever show with 72 medals
India on October 13, 2018 concluded its campaign at the 2018 Asian Para Games in Jakarta, Indonesia with a record medal haul, winning a total of 72 medals that included 15 gold, 24 silver and 33 bronze medals. India was placed ninth in the overall tally.
This was India's best-ever performance at the Asian Para Games, as in the last edition at Incheon it had won 33 medals including 3 gold, 14 silver, 16 bronze medals. India won around half of its medals in Para-athletics with the tally reading 36 medals including 7 gold, 13 silver and 16 bronze.
China finished at the top with 319 medals including 172 gold, 88 silver and 59 bronze, followed by South Korea at the second place with 53 gold, 25 silver and 47 bronze and then Iran with 51 gold, 42 silver and 43 bronze.
23. Sikkim wins FAO's Future Policy Award 2018 for being world's first 100 percent organic state

North-eastern state Sikkim on October 12, 2018 won the UN Food and Agriculture Organisation's (FAO) Future Policy Award 2018 for being the world's first 100 percent organic state.
Sikkim defeated 51 nominated policies from 25 countries, winning the Gold Prize of the Future Policy Award 2018, also known as "Oscar for Best Policies".
As per the press release, "Sikkim is the first organic state in the world. All of its farmland is certified organic… Embedded in its design are socioeconomic aspects such as consumption and market expansion, cultural aspects as well as health, education, rural development and sustainable tourism."
24. UP Cabinet approves changing name of Allahabad to 'Prayagraj'

The Uttar Cabinet on October 16, 2018 approved the proposal of the state government to rename the city of 'Allahabad' as 'Prayagraj'. The decision has been vehemently opposed by the opposition parties.
The city of Allahabad was originally known as Prayag in ancient times. Between 1574 and 1583, the 16th-century Mughal emperor Akbar founded a fort near the confluence of the Ganga and the Yamuna, known as Sangam, as he was impressed with its strategic position.
For a long time Akbar's desire was to found a great city in the town of Piyag, where the rivers Ganges and Jamna join, which is regarded by the people of India with great reverence and which is a place of pilgrimage for the ascetics of the country and to build a choice fort there. Hence, Akbar named the fort and its neighbourhood as Ilahabad, which meant the "Abode of God", inspired by the religion he had founded, Din-i-Illahi. In the later years, Akbar's grandson Shah Jahan renamed the entire city as Allahabad.
25. List of major International Awards conferred upon Prime Minister Modi
Prime Minister Narendra Modi was recently awarded with the Seoul Peace Prize 2018 for his contribution to international cooperation and fostering global economic growth. He was credited for his contribution towards regional and global peace.
On the similar lines, PM Modi has been honoured with various awards and accolades since the time of taking the hold of premiership of the country in 2014. These are UN Champions of the Earth Award, Grand Collar of the State of Palestine, Amir Amanullah Khan Award of Afghanistan and King Abdulaziz Sash by King Salman bin Abdulaziz.
26. WEF's Global Competitiveness Index 2018: US tops; India ranked 58th

The World Economic Forum (WEF) on October 16, 2018 released the Global Competitiveness Report 2018. The report publishes the Global Competitiveness Index, ranking 140 countries on the basis of 98 indicators organised into 12 pillars.

On the list of 140 economies, the United States topped the list with a score of 85.6. India was ranked as the 58th most competitive economy with a score of 62.0 on the Global Competitiveness Index 2018. India jumped five spots from 2017, the largest gain among G20 economies.
As per the report, India leads the region in all other areas of competitiveness except for health, education and skills. As per the report, India's greatest competitive advantages include its market size and innovation.
27. US to pull out of Intermediate-Range Nuclear Forces treaty with Russia

US President Donald Trump confirmed on October 20, 2018 that the United States will pull out of the three-decade-old Intermediate-Range Nuclear Forces (INF) treaty, which it had signed with Russia during the Cold War.

Explaining the decision, Trump alleged that Russia has "violated" the agreement. He said that they have been violating it for many years. He said that the US would not let Russia violate a nuclear agreement and go out and develop the weapons while the US is not allowed to. "We'll have to develop those weapons," he added.
The INF treaty was signed in December 1987 between the then US President Ronald Reagan and his USSR counterpart Mikhail Gorbachev on the elimination of intermediate-range and shorter-range missiles.
28. Citizenship (Amendment) Bill, 2016: Why Assam is on boil?
The Citizenship (Amendment) Bill, 2016 has been gaining momentum amid protests against the Bill by Krishak Mukti Sangram Samiti (KMSS), Asom Jatiyatabadi Yuba Chatra Parishad (AJYCP) and 44 other organizations in Assam.
These organisations called for the 12-hour shutdown in Assam to protest against the Centre's proposal to pass the Citizenship (Amendment) Bill, 2016 in the Winter Session of Parliament.
During the 2014 General Elections, the BJP had promised to grant citizenship to Hindus persecuted in the neighbouring countries. In its election manifesto, the BJP had promised to welcome Hindu refugees and give shelter to them.
29. Government removes CBI Director Alok Verma from his post; appoints M Nageshwar Rao

In a dramatic midnight action, the Union Government on October 23, 2018 removed CBI Director Alok Verma from his post. The decision was taken by the Appointments Committee of the Cabinet (ACC) in the past midnight. The committee also issued an order appointing M Nageshwar Rao, presently working as Joint Director at the CBI, as Director of the Central Bureau of Investigation (CBI).

The decision came after the ongoing tussle between CBI Chief Alok Verma and Special Director Rakesh Asthana escalated over bribery allegations, hurled at each other. Earlier, the CBI divested Asthana of all the supervisory charges. The bureau also added five new sections into the existing bribery FIR lodged against Asthana.
30. Virat Kohli becomes fastest batsman to reach 10,000 ODI runs

Virat Kohli on October 24, 2018 became the fastest batsman to score 10,000 runs in one-day internationals, reaching the milestone in just 205 innings. With the feat, he surpassed the record held by Sachin Tendulkar, who had achieved the feat in 259 innings.
Virat Kohli became the fifth Indian batsman and 13th overall to reach 10000 ODI runs.The other Indians in the elite 10K club include Tendulkar (18426), Sourav Ganguly (11221), Rahul Dravid (10768) and MS Dhoni (10123).
Tendulkar was the first in history to breach the 10,000 mark in ODIs. He got there in 2001 against Australia in Indore.
Video: Check out the latest current affairs of this week