PM Narendra Modi announces remuneration hike for ASHA, Anganwadi workers
Prime Minister Narendra Modi has announced an increase in remuneration for those involved with the government's Accredited Social Health Activist (ASHA) scheme and Anganwadi scheme. The hike will be effective from next month.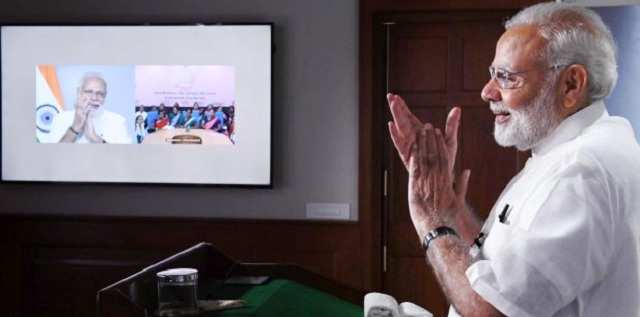 PM Narendra Modi announces remuneration hike for ASHA, Anganwadi workers
Indian Prime Minister Narendra Modi on September 11, 2018 announced an increase in remuneration for those involved with the government's Accredited Social Health Activist (ASHA) scheme and Anganwadi scheme.

The announcement, which will be effective from next month, was made by the Prime Minister during his video bridge interaction with lakhs of ASHA, Anganwadi and auxiliary nurse midwife (ANM) workers.

Significance

The hike in the remuneration has been a long-standing demand by ASHA and Anganwadi workers. They had also participated in the farmers' protest in Delhi this month in demand of the same.

Key Highlights

• The Prime Minister during his interaction announced that the Union Government would be doubling the routine incentives given to the ASHA workers.

• In addition, he announced that all ASHA workers and their helpers would be provided free insurance cover under Pradhan Mantri Jeevan Jyoti Bima Yojana and Prime Minister Suraksha Bima Yojana.

• The prime minister also announced a significant increase in the honorarium given to the Anganwadi workers.

• With the development, those receiving Rs 3000 so far, would now receive Rs 4500 and those receiving Rs 2200 would now get Rs 3500.

• The honorarium for Anganwadi helpers has also been increased from Rs 1500 to Rs 2250.

• The Anganwadi workers and helpers using techniques such as Common Application Software (ICDS-CAS) would be getting additional incentives based on their performance, ranging from Rs 250 to Rs 500.
The Accredited social health activists (ASHAs) are community health workers instituted by the Union Government's Ministry of Health and Family Welfare (MoHFW) as a part of the National Rural Health Mission (NRHM).
The key component of the scheme is to provide every village in the country with a trained female community health activist ASHA.
Selected from the village itself and accountable for it, the ASHA will be trained to work as an interface between the community and the public health system.
Key components of ASHA include:
• ASHA must primarily be a woman resident of the village married/ widowed/ divorced, preferably in the age group of 25 to 45 years.
• She should be a literate woman with due preference in selection to those who are qualified up to 10th standard wherever they are interested and available in good numbers. This may be relaxed only if no suitable person with this qualification is available.
• ASHA will be chosen through a rigorous process of selection involving various community groups, self-help groups, Anganwadi Institutions, the Block Nodal officer, District Nodal officer, the village Health Committee and the Gram Sabha.
• The capacity building of ASHA is being seen as a continuous process. ASHA will have to undergo a series of training episodes to acquire the necessary knowledge, skills and confidence for performing her spelled out roles.
• The ASHAs will receive performance-based incentives for promoting universal immunisation, referral and escort services for Reproductive & Child Health (RCH) and other healthcare programmes, and construction of household toilets.
• Empowered with knowledge and a drug-kit to deliver first-contact healthcare, every ASHA is expected to be a fountainhead of community participation in public health programmes in her village.
• ASHA will be the first port of call for any health related demands of deprived sections of the population, especially women and children, who find it difficult to access health services.
At present there are over 9 Lakh ASHAs spread across 33 states with the exception of Goa, Chandigarh and Puducherry.
The Anganwadis are a type of rural child care centres, which were started by the Indian government in 1975 as part of the Integrated Child Development Services program to combat child hunger and malnutrition.
The centres primarily are equipped to provide basic health care in Indian villages. They are a part of the Indian public health care system.
The basic health care activities provided by these centres include supplementary nutrition, non-formal pre-school education, nutrition and health education, immunisation, health check-up and referral services.
As many as 13.63 lakh Anganwadi and mini-Anganwadi centres are operational out of 14 lakh sanctioned across the country, as of June 1, 2018.
Important Current Affairs of August 2018
Video: Check out the latest current affairs of this week