GK Quiz on life of Mahatma Gandhi: Set 1
This year the nation will celebrate the 152nd birth anniversary of Mahatma Gandhi on the 2nd October 2021. We have published this quiz to increase the general knowledge of the students and the general public.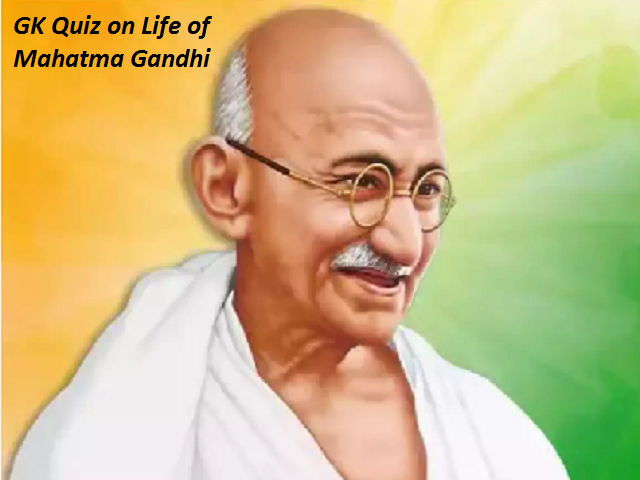 Gandhi ji
Jagran josh is presenting you a set of 10 questions based on the life of Mahatma Gandhi. These questions are very important for the upcoming state-level exams. So attempt these questions and boost your chances of selection in the upcoming exams.
1. Where was Gandhi Ji born?
(a) Porbandar
(b) Rajkot
(c) Ahmedabad
(d) Delhi
Answer: a
Explanation: Mohandas Karamchand Gandhi was born in Porbandar, Gujarat, India on 2 October 1869.
2. What was the age of Gandhi ji at the time of his marriage?
(a) 12 yr
(b) 13 yr
(c) 16 yr
(d) 20 yr
Answer: b
Explanation: The 13-year-old Mohandas Gandhi got married to 14-year-old Kasturbai Makhanji Kapadia (her first name was usually shortened to "Kasturba", and affectionately to "Ba") in May 1883. It was a arrange marriage.
Gandhi Jayanti 2021: Quotes, Wishes, Messages, WhatsApp, Facebook Status, Poems, Songs, Slogans and More
3. About how old was Gandhi when he reached London to become a barrister?
(a) 20 years
(b) 19 years
(c) 21 years
(d) 16 years
Answer: b
Explanation: At the age of 19 Gandhi ji left from Bombay to London. Gandhi attended University College, London which is a constituent college of the University of London.
4. Who was the political guru of Mahatma Gandhi ji?
(a) Ravindra Nath Tagore
(b) Swami Vivekananda
(c) Gopal Krishna Gokhale
(d) None of the above
Answer: c
Explanation: Mahatma Gandhi used to seek the opinion of the Gopal Krishna Gokhale through letters from South Africa. Gokhale was the one who persuaded Gandhi to came back to India, invest time in understanding India and work for Indian independence struggle movement.
5. From which station in South Africa Gandhi was thrown out of the train?
(a) Natal
(b) Johannesburg
(c) Pietermaritzburg
(d) Durban
Answer: c
Explanation: In April 1893, Gandhi aged 23, set sail for South Africa to be the lawyer for Abdullah's cousin. He was thrown off a train at Pietermaritzburg after refusing to leave the first-class.
6. At which place was Gandhiji arrested for the first time by the British Government for sedition?
(a) Bombay
(b) Pune
(c) Calcutta
(d) Ahmedabad
Answer: d
Explanation: Mahatma Gandhi was arrested at Sabarmati on 10 March 1922 and sentenced to six-year jail for sedition. However, he eventually served only two years of that term.
7. On which day of March 1930, the famous Dandi March launched by the Gandhi ji?
(a) Tenth
(b) Thirteenth
(c) Twelfth
(d) Eleventh
Answer: c
Explanation: Dandi March is also known as the Salt March, Salt Satyagraha and the Dandi Satyagraha was started on 12 Mar 1930 and concluded on 6 Apr 1930. Dandi March was an act of nonviolent civil disobedience against the British.
8. When was the Gandhi - Irwin Pact signed?
(a) March 1, 1932
(b) March 5, 1931
(c) March 10, 1935
(d) March 7, 1937
Answer: b
Explanation: The 'Gandhi-Irwin Pact' was a political agreement between the Lord Irwin and Mahatma Gandhi on 5 March 1931 before the second Round Table Conference in London.
9. Who was given the slogan 'Do or die'?
(a) Subhash Chandra Bose
(b) Bipin Chnadra Pal
(c) Sarojini Naidu
(d) None of these
Answer: d
Explanation: Mahatma Gandhi had given the slogan of 'Do or die' during the Quit India movement of 1942.
10. Who killed Gandhi Ji?
(a) Ruskin Bond
(b) Nathuram Godse
(c) Lord Mountbatten
(d) Satya Bhan Gokhale
Answer: b
Explanation: Nathuram Vinayak Godse assassinated Gandhi in New Delhi on 30 January 1948. Godse was an advocate of Hindu nationalism, from Pune, Maharashtra.