World Maritime Day 2019: Current Theme, History and Significance
World Maritime Day is observed on the last week of September on Thursday every year to mark the contribution of international maritime industries towards the economy of the world especially shipping. This year in 2019, World Maritime Day falls on 26 September. Let us read more about World Maritime Day, its 2019 theme, history and significance.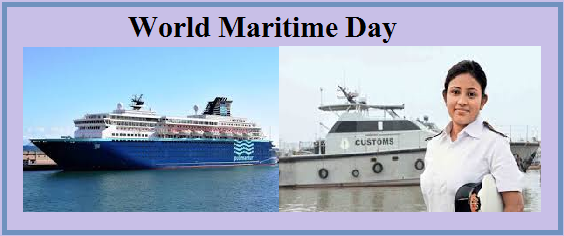 World Maritime Day
World Maritime Day main aim is to focus on the importance of safety, maritime security, and marine environment and also to mark the significance of the aspect of the International Maritime Organisation's work. This day is celebrated in several countries including Australia, Canada, the United Kingdom and the United States.
World Maritime Day 2019: Theme
The World Maritime Day 2019 theme is "Empowering Women in the Maritime Community". The theme focuses on the importance of gender equality, in line with the Sustainable Development Goals (SDGs) of the United Nation's and to highlight the contribution of women within the maritime sector.
Let us tell you that SDGs 5 goal is to achieve gender equality and empower all women and girls. Therefore, it is necessary to foster an environment in which women are identified and selected for career development opportunities in maritime administrations, ports and maritime training institutes.
No doubt empowering women will help in the growth and development and also economies across the world.
National Maritime Day in India 2019
According to the United Nations, at present women represent only two percent of the world's 1.2 million seafarers and 94 percent of female seafarers are working in the cruise industry. Within this historically male-dominated shipping industry, IMO has been making a concerted effort to help the industry move forward and support women to achieve a representation that is in keeping with twenty-first-century expectations.
Do you know that a 30 year veteran of the maritime industry Captain Serena Melani will be the first female captain in the cruise industry's history in a newly-built cruise ship when in February 2020 Seven Seas Splendour will do its debut?
World Maritime Day: History
In 1948, an international conference in Geneva adopted a convention to establish the IMO, a specialised UN agency that develops and maintains a comprehensive regulatory framework for shipping.
Earlier the name of IMO was the Inter-Governmental Maritime Consultative Organisation (IMCO) and in 1982 it was changed as International Maritime Organisation (IMO).
The main aim of IMO is to focus on the areas like safety, environmental concerns, legal matters, technical co-operation, maritime security and the efficiency of shipping. On 17 March, 1978, first time World Maritime Day was celebrated to mark the date of the IMO Convention's entry into force in 1958. That time the organisation has 21 Member States and currently it has about 174 Member States and three associate Members.
Note: The date of celebrating World Maritime Day is left to the individual governments but usually it is celebrated during the last week of September on Thursday.
This year World Maritime Day's theme focuses on the gender equality and the empowerment of women through gender-specific fellowships: by providing high-level technical training to women in the maritime sector in developing countries and generating an environment for women to develop career opportunities in maritime administrations, ports and maritime training institutes.
Important Days and Dates in September 2019
Important Days in 2019: National and International