World Pasta Day 2019: History and Interesting Facts
World Pasta Day is celebrated on 25 October every year. This is the day for Pasta lovers who can enjoy their dish with friends, family, etc. Pasta is one of the versatile foods in the world and comes in various shapes and sizes. What is the history behind World Pasta Day and how is it celebrated? Let us find out!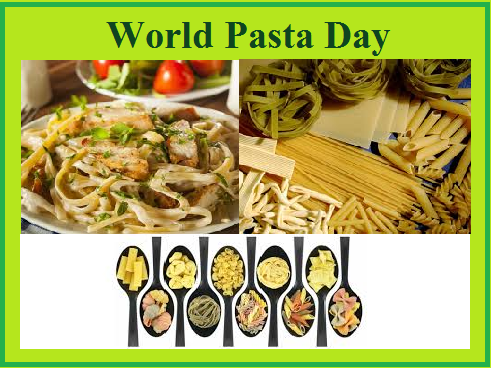 World Pasta Day
World Pasta Day is the annual celebration of not only about pasta but also about the consumers of pasta. This day highlight that pasta can be consumed all over the world in all the continents. Special events for the noodles are organised and producers of the pasta are also honoured. Pasta is loved by children, teens, etc. Let us tell you that National Pasta Day is also celebrated on 17 October every year. No doubt, it is considered one of the top comfort foods in the world.
World Pasta Day: History
On 25 October 1995, World Pasta Day was brought into existence as part of the World Pasta Congress. From all over the world, experts came together to discuss the glories of the noodle and emphasis on the importance of spreading knowledge of the world's panorama of pasta. This day is celebrated to promote the eating of pasta and its culture.
World Food Day 2019: Theme, History and Objectives
World Pasta Day: Celebrations
People cook pasta in various flavours. Also, they try to make their noodles in different shapes. In English, in Italian Pasta word means dough. People eat their favourite flavour of pasta in restaurants with their friends and family. Some types of pasta that people can choose and enjoy are elbow macaroni, egg noodles, fusilli, linguine, spaghetti, manicotti, penne rigate, rotelle, etc.
An event is created and organised by the Unione Italiana Food and IPO (International Pasta Organisation) on the occasion of World Pasta Day which is the iconic dish of the Mediterranean Diet. In fact, the Italian pasta makers are launching an initiative to give it back its central role in a good and healthy diet.
Interesting facts about Pasta
- It is said that approx. 60 pounds, Italians eat pasta per person per year.
- About 20 pounds, Americans eat pasta per person per year.
- Some most popular forms of pasta are Macaroni, penne, and spaghetti.
- Approximately 4 billion pasta is created by the U.S.
- There is one form of pasta namely Al dente which not only tastes better but keeps the stomach full for longer.
- It is said that there are at least 350 shapes of pasta.
Therefore, World Pasta Day is celebrated on 25 October and on this day people enjoy pasta in different flavours with family, friends, etc.
Important Days and Dates in October 2019
Important Days and Dates in 2019: National and International