World Pharmacist Day 2019: Current Theme, History and Significance
World Pharmacist Day is celebrated on 25 September every year to promote and advocate the role of the pharmacist in improving health all over the world. This day also spread awareness about the importance and role of a pharmacist. Let us read more about World Pharmacist Day, its theme, history and significance.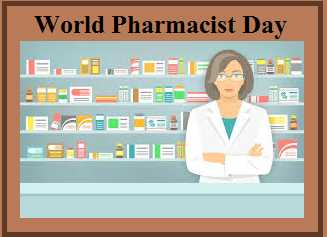 World Pharmacist Day
On World Pharmacist Day several activities are organised all over the world to highlight the importance of medicine experts and to make people understand about the crucial role that a pharmacist play in the medical world.
World Pharmacist Day 2019: Theme
The theme of World Pharmacist Day 2019 is "Safe and effective medicines for all". It focuses on the safety of patient by improving the use of medicine and to reduce the errors related to medicines. Therefore, the role of pharmacist is very important.
The theme of World Pharmacist Day 2018 was "Pharmacists: Your Medicines Experts". It emphasise that pharmacists are a trusted source of knowledge and advice for both patients and health care professionals.
No doubt while providing medicines, pharmacist uses their knowledge and their unique expertise to ensure that people will get the best from their medicines.
According to the FIP President Dominique Jordan "Today, more than ever, pharmacists are charged with the responsibility to ensure that when a patient uses a medicine, it will not cause harm".
World Pharmacist Day: History
World Pharmacist Day was created by the International Pharmaceutical Federation (FIP) Council at the World Congress of Pharmacy and Pharmaceutical Sciences in Istanbul, Turkey in 2009. 25 September is chosen as World Pharmacist Day because on this date FIP came into existence in 1912. The main aim of this day is to encourage the role and activities of the pharmacist in improving health a in every part of the world.
What is FIP?
FIP is the International Pharmaceutical federation. It is the global federation of national associations of pharmacists and pharmaceutical scientists. It also has an official relation with the World Health organisation. FIP organisation has around 144 members, it represents practitioners around 4 million and scientists around the world.
FIP President Dominique Jordan said that "Studies show that a significant number of patients are harmed during health care, resulting in permanent injury, increased length of stay in healthcare facilities or even death. Errors in the medicines are contributing factor and pharmacists have a vital role in curtailing this global health challenge".
Who is Pharmacist?
They are healthcare professionals who practice in pharmacy. They are involved in all the medicines delivered to the patients and sell medicated over the counter. Also, pharmacist explains about the medicine prescribed by the doctor. To become a pharmacist he or she should have a degree of pharmacy so that they can understand the biochemical mechanisms of drugs, uses of drugs, therapeutic roles, side effects, potential drug interactions and monitoring parameters.
Let us tell you that Pharmacist is responsible for:
- Medicine quality provided to the patients.
- To make ensure that medicines that are supplied are within the law.
- To ensure that medicines that are provided to the patients are suitable.
- To advise patients about medicines like how to take medicines, what reactions may occur and giving answers to the patient's questions regarding medicines.
Therefore, World Pharmacist Day is observed on 25 September to highlight the role and importance of pharmacist.
Important Days and Dates in September 2019
Important Days and Dates in 2019: National and International