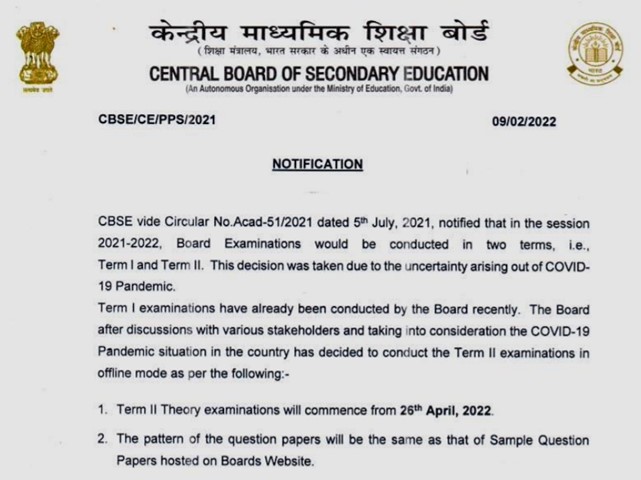 CBSE Term 2 Date Announced: Finally, in some good news for CBSE Students, the Board has announced that CBSE Term 2 Exam 2022 Date. As per the formal announcement, the CBSE Class 10 and Class 12 Exam for Term 2 will be held from 26th April 2022. The announcement of CBSE Term 1 Exam Date by the board has come across as a major surprise of lakhs of students who are still awaiting the CBSE 10th and 12th Result for Term 1 Exam.
CBSE 10th and 12th Term 2 Exam Date Confirmed by CBSE Exam Controller
The news about the CBSE Term 1 Exam Date has been confirmed by CBSE exam controller Sanyam Bhardwaj. While interacting with media, Mr Bhardwaj mentioned that "The board after discussions with various stakeholders and taking into consideration the COVID-19 pandemic situation in the country has decided to term 2 examinations offline." The announcement comes ahead of CBSE Class 10 and 12 Term 1 Results which are still awaited by the students.
Offline Exams to be held at Designated Exam Centres
Following the announcement, the CBSE Board also issued a notification confirming the exam date other details about the CBSE Term 2 Exams. According to the notice, the CBSE Class 10 and Class 12 Exams will begin from 26th April 2022. Furthermore, the notice also mentions that the CBSE Term 2 Exams will be held in offline format i.e., in pen and paper mode at designated exam centres.
In terms of exam format and pattern, the exam will be held as per the reduced syllabus and 50% portion of it which has been earmarked for Term 2 Exams. CBSE Term 2 Exam Question Papers will be based on the sample papers released earlier and will have both objective as well as subjective questions. The total exam duration of CBSE 10th and 12th Exam would be of 2 hours.
Also Read: CBSE Term 1 Result 2022 Updates: Class 10 and 12 Results Awaited; Know How to Get Marksheet

CBSE Term 2 exam dates are yet to be released, but the exam will have a 50 percent reduced syllabus. The question papers will have both objective and subjective questions. The exam duration will be for 2 hours.
CBSE Term 1 Results Awaited
As reported earlier, the announcement of CBSE Term 2 Exam Date has come across as a major surprise for the students as they were expecting their Term 1 Results this week. The CBSE Board was to announce CBSE 10th and 12th Term 1 Results 2021-22 for the exam held in November – December months.
Also Read: CBSE Term 1 Result 2022: When will CBSE 10th and 12th Results Declared?; Students Anxious

The CBSE Term 1 Result which was expected around mid-January has been delayed by nearly a month now, owing to the 3rd wave of COVID-19 pandemic. However, going by the reports coming from CBSE HQ in Delhi, the Term 1 Results are in the final stage of preparations and will be announced soon. Students are advised to stay tuned to this page for latest updates about CBSE Term 1 Result 2022.
Also Read: CBSE Class 10 Result 2021-22 – Get Complete Details Here
Also Read: CBSE Class 12 Result 2021-22 – Get Complete Details Here