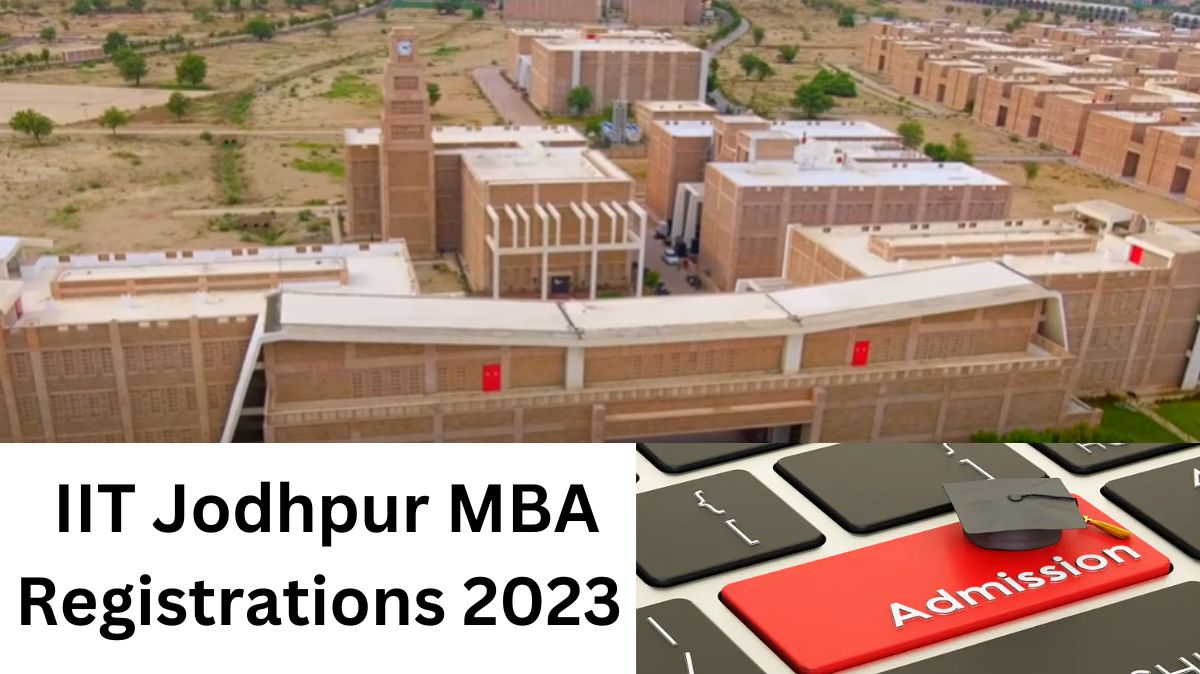 IIT Jodhpur Admissions 2023: The School of Management and Entrepreneurship (SME) at the Institute of Technology in Jodhpur (IITJ) has opened an online registration portal for various management programmes. The Master of Business Administration (MBA) programme is offered by the institution leading into MBA and MBA-technology degrees.
As per the latest notification, interested candidates can apply on the official website latest by February 28, 2023. The aspirants will have to submit the application forms within the stipulated time period.
IITJ MBA Registrations 2023 - Apply Here
How to Apply for IITJ MBA Course 2023
Applicants will have to submit the registration forms up to February 28, 2023, at the online window. Here are a few easy steps to do the registration for the management course for the academic year 2023.
Step 1 - Visit the official website - iitj.ac.in
Step 2 - Click on the link - "MBA Admissions 2023-25" available on the home page
Step 3 - Register by entering details like name, email and mobile number
Step 4 - Login by using your credentials and start filling out the application form
Step 5 - Provide personal and educational information
Step 6 - Then upload all the required documents in the prescribed formats
Step 7 - Pay the IIJ MBA application form through a safe payment gateway
Step 8 - Submit the MBA application form and save it for future purpose
IITJ MBA Eligibility Criteria 2023
Candidates with an undergraduate degree in any discipline with a minimum per cent marks of 60% and 55% for those belonging to SC, ST and PwD categories along with a valid common admission test (CAT) 2022 score can apply.

Application forms are also available to students in their final year or currently pursuing their degrees.

Such candidates will get provisional admissions if they meet all requirements for the qualifying degree before the programme commences and will produce a provisional certificate of completion within two months of joining the programme.
IITJ MBA Selection Schedule 2023
The shortlisted candidates will be required to appear for a further round of virtual interviews between the third week of March and the first week of April 2023. As per the schedule, the final results will be declared in May 2023 and the classes will begin in July 2023.
IIT Jodhpur Head of SME, Sangeeta Sahney spoke about the significance of the MBA programme offered by IIT Jodhpur. She said that the School of Management and Entrepreneurship is forging ahead on its path of empowerment and enabling a new generation of entrepreneurs, managers and academics. Moreover, SME has a dedicated team of faculty experts drawn from the best Indian institutions as well as a host of leaders coming from both Indian and foreign academia and industry serving as Professors of Practice, Adjunct Faculty, Visiting Professors, and Scholars-in-Residence.
She also added that the intellectual masters occupying this institute and serving as guides and advisors for its diligent student body are on their way to making the School of Management and Entrepreneurship a nationally and internationally recognized centre of management and entrepreneurial studies.
Also Read: UGC Asks Universities To Share Resources With Students of Other HEIs, Check Details Here