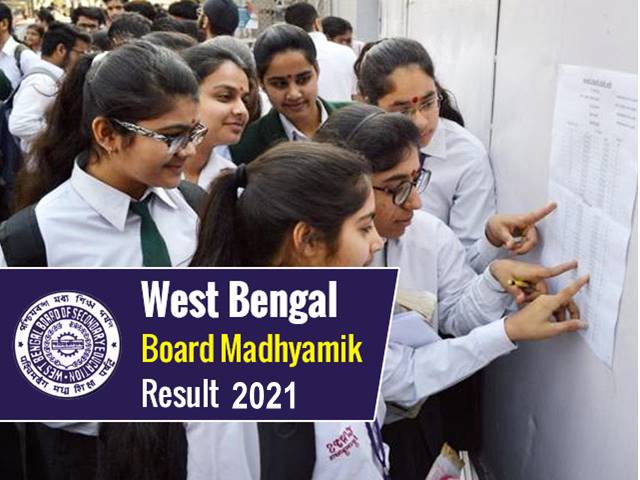 WB Madhyamik Result 2021 Announced: Finally, the long wait has ended, as the West Bengal Class 10 Results 2021 have been declared by the Board today morning. As of now, the WBBSE has declared the Madhyamik Results 2021 only formally in the press meet held at the Dezario Bhawan in Kolkata. In the press meet, WB Board President Kalyanmoyi Ganguly informed media persons that the All Pass result has been announced for 2021 session and that all 10,79,749 have been declared as passed in the exam. Now at 10 AM, the Board will activate the WBBSE 10th Result 2021 checking link, using which students will be able to check and download their individual scorecards easily. Students need to visit official website wbresults.nic.in or log onto results.jagranjosh.com to check West Bengal Madhyamik Results 2021. Alternatively, the below-given link will also be activated shortly using which students will get convenient access to their WB 10th Results in next few minutes.
Check WB Madhyamik Result 2021 – Direct Link (Live Now)
Keep refreshing this page for live updates on WB Madhyamik Results 2021!
WB Madhyamik Result 2021 Live Update @ 10:05 AM: Result Link Live Now
WBBSE Result checking link available now
WB Class 10 Result 2021 Live Update @ 9:40 AM: Marksheet distribution Camps from 10 am today
in the presser, WBBSE president Kalayanmoy Ganguly informed that from 10 am, the Parishad's 49 camp offices will distribute admit cards, mark sheets and certificates to school authorities. Heads of Schools are advised to visit these camps and collect these documents for all the students who are registered from theri schools.
WB 10th Result 2021 Declared Live Update @ 9:30 AM: 79 Students Secure Top Rank
As per the details shared by WBBSE president Kalyanmoyi Ganguly, a total of 79 students have secured the 1st Rank in the Class 10 Results announced today. He also mentioned that the highest marks secured in Madhyamik Exam stands at 697.
Madhyamik Result 2021 Declared Live Update @ 9:26 AM: 100% Pass Result Declared
WBBSE has declared 100% pass result for 2021 session, based on an alternative evaluation criteria which was announced earlier by the board. In the press meet held in Kolkata, WBBSE officials informed that all 10,79,749 Madhyamik Clas students, which includes, 4.65 lakh Boys and 6.13 lakh Girls have passed for this year.
Total number of students in WB Madhyamik: 10,79,749
Total number of boys in WB Madhyamik: 4,65,850
Total number of girls in WB Madhyamik: 6,13,899
10th Result 2021 WB Live Update @ 9:22 AM: WBBSE Chairman Addresses Presser
WBBSE President Kalyanmoy Ganguly addresses press meet for declaraiton of West Bengal 10th Result 2021. Mr Ganguly in his address said that "This year was exceptional. By consulting doctors, government and considering the health of students, WBBSE was compelled to cancel the exam. Tried to declare this year's result based on past performance of the students. Students who don't find the exam results acceptable will have the option of writing and exam physically once the covid situation abates."
West Bengal 10th Results Live Update @ 9:20 AM: Details Required to check WBBSE Results online
With the WB Madhyamik Results being declared in online format, it is important for students to keep the necessary details ready using which they will be able to check their Class 10 Results. In order to access results online, students need to keep the following details ready and available with them:
Exam Roll Number
Date of Birth
Madhyamik Result 2021 Live Update @ 9:10 AM: Press Meet About to Begin at Derozio Bhawan
As per the official announcement, the West Bengal Board will hold a brief press meet at the Derozio Bhawan for the formal declaration of Madhyamik Results 2021. Going by the ground reports coming from Kolkata, all the preparations for the press meet have been completed and the presser is about to commence shortly in which WB Class 10 Result will be declared formally.
WB 10th Result 2021 Live Update @ 9:05 AM: Checking Madhyamik Results via SMS
To ensure that digital divide doesn't hamper access to the WB Madhyamik Result 2021, the WBBSE will also make the class 10 results available to the students via SMS as well. For students who do not have a smartphone or internet connectivity, such students can check their WBBSE Class 10 results by sending a simple SMS. The steps involved in this process are listed below:
Step 1: Open SMS / Text Editor in your Phone
Step 2: Type WB<space>10 roll number
Step 3: Send it to 54242/56263/58888
Step 4: In response you will receive your result via SMS.
WBBSE Class 10 Results Live Update @ 8:45 AM: Where to get Exam Roll number?
With WBBSE Madhyamik Results 2021 being declared today at 10 AM, it is important students to know their exam roll number using which they will be able to check their individual Class 10 Results on the website. But for 2021 session, as exam was not held, students have not been issued admit cards which contain the exam roll numbers. But to facilitate online result checking, the board had asked schools to issue centralized exam roll numbers to the students, which can now be used by them to check WB 10th Result 2021.
West Bengal Madhyamik Result 2021 Live Update @ 8:30 AM: Only parents allowed to collect Marksheets
Prioritizing students' safety over everything else, the West Bengal Government has directed WBBSE to only allow parents to visit schools in order to collect the official marksheets, passing certificates and other documents. Parents or guardians of students who were registered to appear for WB Madhyamik Exam have been asked to collect marksheets while strictly adhering to the COVID-19 protocols and guidelines.
WB Class 10 Results Live Update @ 8:00 AM: Camp Offices for Distribution of Marksheets
Reports coming from local bureaus in Kolkaka have confirmed that the West Bengal Madhyamik Result 2021 will be declared at 10 AM in the morning. Following the result declaration, the Board has planned to organize camp offices for the distribution of for admit card, marksheet, certificates of Madhyamik Pariksha (SE) 2021. The board has directed principals or heads of schools to attend these camps and collect marksheets for all the students registered from their schools for Madhyamik Exam.
WBBSE 10th Result 2021 Live Update @ 7:30 AM: Regular and External students to Receive Madhyamik Results
As per the official notification published by WBBSE, it will publish the West Bengal 10th Result 2021 for nearly 11 lakh students of the board. This includes both regular i.e. students who were registered for the exam via their schools as well as external students, who were to appear for the Madhyamik exam as private candidates. Today, WB 10th Results 2021 will be declared for both the type of students.
Madhyamik Result 2021 Live Update @ 7:00 AM: Result to be Declared at 10 AM
The latest update being shared by the local reporters who are present on the ground at Kolkata office, have confirmed that the WBBSE will declare the 10th Result 2021 for Madhyamik students at 10 AM in the morning. As part of the formal declaration process, the West Bengal Board is expected to hold a brief declaration ceremony and press meet in which result details and compilation process will be discussed.
Official Notice Released to Confirm WBBSE Result Date
With rumours and misinformation being rampant on social media platforms about WB Class 10 Results, the Board has taken a safe route to inform students about the date and time of the West Bengal Madhyamik Results 2021. WBBSE has published an official notification on its website, which provides all the details about the WB 10th Result 2021 declaration process. The Board confirmed that the West Bengal Class 10 Result will be announced at 9 AM in a brief press meet organized at the Derozio Bhawan. After the formal declaration, WBBSE 10th Results will be published online and made accessible to students from 10 AM onwards via results.jagranjosh.com.
WB 10th Result 2021 Date and Time Confirmed - Read Official Circular Here
How to check WBBSE Class 10 Result 2021 online?
Like every year, the West Bengal Secondary Board will be publishing the Class 10 Results i.e. WB Madhyamik Results 2021 online via the official results portal. In addition to this, to make sure that students are able to check and access their West Bengal Class 10 Results 2021 easily, the Board will also publish on trusted education portal as well. The detailed step-by-step guide to check WB 10th Class Results 2021 is provided below:
Step 1: Log onto wbresults.nic.in or wb10.jagranjosh.com
Step 2: Locate Link for Madhyamik (Class 10) Results 2021 on the page
Step 3: You will be sent to a new page with input fields
Step 4: Enter your Exam roll number and other details asked on the website
Step 5: Verify all the details against your hall ticket and submit them on the portal
Step 6: Your WBBSE 10th Result 2021 will be displayed on the screen
Step 7: Download the Result scorecard or take printout for future reference