Life at XIMB: A Place Where You Are the Driving Force
Life at XIMB prepares you to manage yourself first and then others and then any organization all within a framework- a framework which only you define for yourself. During your time at this B-school you will learn the importance of prioritisation, time management, meeting deadlines and handling pressure without losing your cool, all of these skills which are crucial to becoming an efficient manager.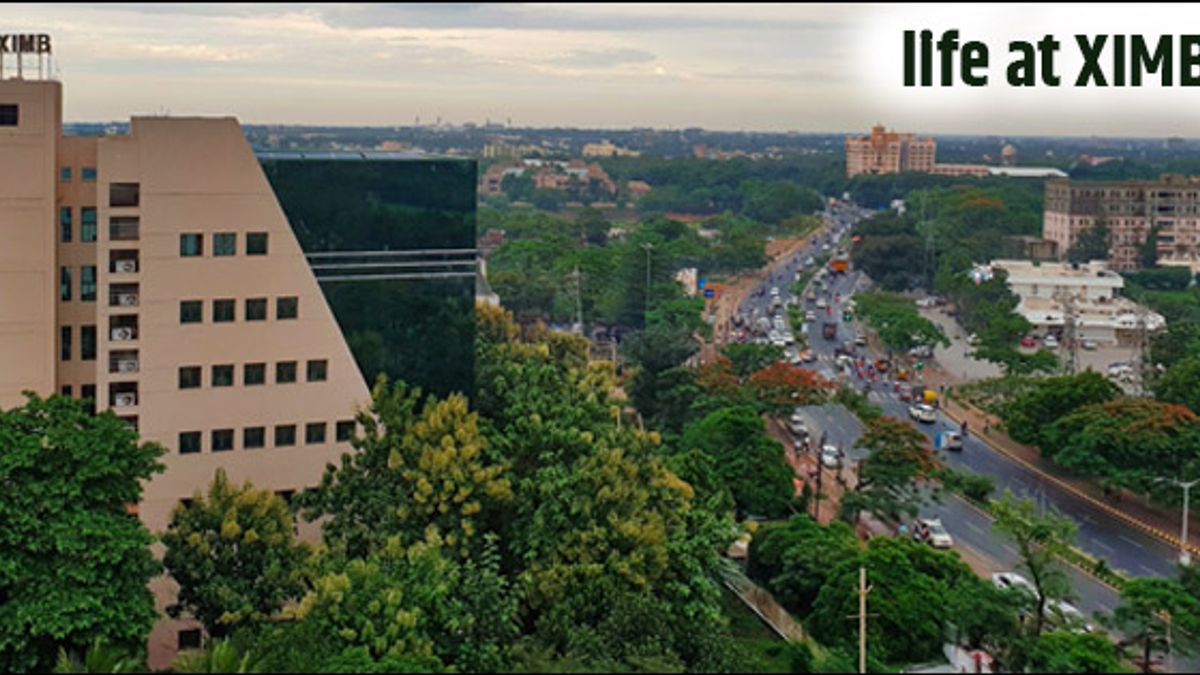 Life at XIMB: A Place Where You Are the Driving Force
Life at XIMB - Over the past 30 years, established in 1987, Xavier Institute of Management Bhubaneswar (XIMB) has been recognised as a premier business school in the country. According to the MHRD's NIRF Management Ranking 2018, it is among the top management institutes in India. The leading B-school aspires to spearhead the country in management field by focusing on innovation and research. XIMB is known to not only disseminate management education but also apply the socio-economic development projects in partnership with the Government and international agencies.
Many dream of securing admission into the coveted B-school but not many get to live their dream. XIMB is one tough nut to crack, given its rigour admission process starting with the XAT exam. What sets the business school apart from its contemporary is the campus life at XIMB that is offered to the selected ones. Campus life at XIMB or any given B-school is crucial for an aspirant who is curious to explore the madness, the legacy that until now he has been reading about and the student life at XIBM.
Without further delay, let us take you through the B-school life at XIMB,
Your Home for the Next Two Years
Before becoming a part of XIMB life you may have done your research on the campus life at XIMB, pedagogy, committees and placement records of the institute. During your initial days, you will be introduced to the XIMB culture; you will be engaged in the orientation where each committee showcase their working and functioning. Two-three days into the course, you will be occupied with group assignments and case studies. From day 1 you will witness the madness that takes place at the campus and without you realizing you will become a part of this madness. You will see students running around the campus to make it to their next class from the canteen. When you assume the day has come to an end, well, you may be wrong as the campus is most active in the evening after class. The phrase 'XIMB' never sleeps holds every drop of truth; even if you step out of your room at 2 am in the morning you will find students discussing various topics, be it campus life, their assignments or future plans. You can imagine how you will be spending your time here; XIMB will truly be your home for the next two years.
Seniors Passing on the XIMB Legacy
Joining a premier B-school is bound to give you pre-joining jitters; all your jitters, confusions and worries will be taken care of by your seniors. From day 1 they will be your 'go-to person', seniors will be in constant touch with you for your smooth transition. As you go on to embrace your life at XIMB, you will get to know about the traditions followed at XIMB. Roll seniors and Room seniors are one such tradition followed in the campus. Roll seniors are your seniors who share your roll number, while room seniors are your seniors who stayed in your room before you. Each one of you will be assigned a senior who will be your point of contact, senior mentors and your guardian. Any time of the day you can approach them and seek their advice on almost everything. Talking about the way of life at XIMB, you can guess by the way seniors treat you and help you through the course.
Student-Driven B-school
Generally, a college is run and managed by the staff and faculty members, but this is not the case with XIMB. Why? You will be surprised to know the life at XIMB is completely student-driven, from placements, college clubs/ committees, to driving the college annual fest; everything is looked after by the student body. Any event you take part in such as Conclaves, Quiz, Leadership talks, Alumni Meets and Guest speaker events, all these are organized by student-driven committees, giving a first-hand experience and opportunity for students to grow and develop into future leaders and managers. 'Expressions' is one of the biggest cultural management fests of Eastern India which is again organized by the various student committees. Ask anyone, and they will happily share their experience of witnessing or being a part of such grandeur event. You will witness the 'XIMB Legacy' and 'XIMB Culture' in a short span of two weeks into course. The culture of XIMB is different, created on the grounds of unbreakable bonds between seniors and juniors.
Time to Reflect Back
Through your course, you will realize how time flies, halfway through your MBA programme, when you sit back and reflect on your experience and learning, you will witness a change in you, your thought process and your perspective. Life at XIMB prepares you to manage yourself first and then others and then any organization all within a framework- a framework which only you define for yourself. During your time at this B-school, you will learn the importance of prioritisation, time management, meeting deadlines and handling pressure without losing your cool, all of these skills which are crucial to becoming an effective manager. XIMB is a place that enables you to grow, nurture and develop the ability to dive into the depths of circumstances, analyze different dimensions and inculcate confidence to take the right decisions.
Welcome to XIMB world!
Student Speak
To get an insider's take on the Life at XIMB, Jagranjosh connected with Isha Parasramka - MBA(BM) 2018-19 student at XIMB Bhubaneswar. Here's what she has to say:
Jagran Josh: How is the campus life at XIMB? What made you pick XIMB over other B-schools, something that makes it stand out from others?
Isha Parasramka: I would like to say that campus life at XIMB is inclusive, homely and interactive. The senior- junior relationship made it easier for the newcomers to ease into this hectic MBA schedule while the campus activities kept us involved and always on our toes.They range from tournaments, inter-section competitions to celebrations and festivities; from organising marathons for social awareness to organising band performances. In my 3 months here, I have enjoyed everything including cheering for the campus team to pulling an all-nighter for an event next day.
XIMB with its rich lineage and great faculty has gone a long way in helping me realise my dreams of having a rich corporate career. Also, it's the perfect blend for providing academic knowledge, Extra-curriculars participation and industry exposure, all three combining to form a logical cohesive hole for holistic development.
Jagran Josh: How are the academic schedule at XIMB? How do you start and end your day?
Isha Parasramka: The academic schedule at XIMB, I would like to say is rigorous yet manageable. It's an efficient mix of diverse courses providing us with the inter-disciplinary knowledge, yet we get enough time to put our minds towards more practical and applicative learning, through case competitions and committees.
I start my day early, usually by checking my calendar. Day design itinerary depends on the priorities for the day. Maybe a group task, project submissions or some extra classes, I have scheduled. I also make sure to read the newspaper every day. Lunch breaks are spent having fun with friends. During night-time, I prefer adding a few lines to my journal, sometimes even a single line. My day also includes a pinch of exercise and a hearty meal.
Jagran Josh: There are various academic and activity clubs at XIMB. Are you part of any such clubs? Share some of the activities and their experience.
Isha Parasramka: XIMB has 4 Core, 5 functional and 10 interest committees according to their respective weights. I am a shadow member of IlluminatiX, The Media and PR cell, responsible for branding and maintaining good relations of the institute with the outside world. It is structurally divided into verticals like content, media partners, social media etc where equitable and transparent division of work helps us work effectively and maintain deadlines. Each person, apart from his own vertical gets to experience other tasks as well, hence employing team work and positive group dynamics. I personally, have and still am learning a lot from working with IlluminatiX.
I am also a part of Exemplar, The Competitions Committee of XIMB that works in tandem with the Placement Cell, for easement of various quizzes and competitions on campus. This committee helps me get the requisite industry exposure and enhance my skills by working on a number of case-lets and studies.
Jagran Josh: Tell us something about XIMB annual fests, cultural fests and various competitions.
Isha Parasramka: Xpressions, one of the biggest Management-Cultural fest India, is a three-day extravaganza, which this year is scheduled to take place from 16th to 18th November 2018. It brings a mix of new and old favourites to its current slate. Key to this are the prime business simulation events-Case Connect, Inquizitive, Maven, MPower and many more.
Apart from these events, students will also be participating in Parikrama, a national-level online scavenger hunt, Maven (a national-level competition), Urbaniac (a business model competition,) etc. We also have The Model United Nations, and EnigmaX, an online treasure hunt organised exclusively for XIMB alumni, round off the business competitions at Xpressions. However, cultural events enjoy as much importance; from music to dance and drama, there's something for art and culture aficionados here too. The last day ends with a celebrity performance where last year, Farhan Akhter had performed.
It is one event where the whole campus comes together, not only on those 3 days but for the past few months, to make it a one of a kind fest. It is a whole different feeling to be a part of something this big.
Talking about competitions, XIMB shares a legacy of hosting the biggest Business School competitions like Godrej Loud, Mahindra War Room, Hul Lime etc. It also shares the cases of various other business schools and companies in order to broaden our horizon and give us ample choices to develop ourselves.
Jagran Josh: How do you spend your time when not studying?
Isha Parasramka: My time not spent on studying, I believe is productively divided and diverged towards other activities. They can include case study analysis sessions, group discussions on latest events, planning committee events, or even seldom outings with friends or indulgence in sports available on campus- basketball, tennis, badminton etc. Communicating with people from different backgrounds and networking also takes up some part of my day.
Jagran Josh: Tell us something about the hostel life? How do you relax after a day full of classes and activities?
Isha Parasramka: Relaxation, is again through involvement in leisure activities like sports, outings or simple conversations. Hostel life includes, frequent meetings at eat-outs inside campus, late-night conversations and discussions in the multi-purpose halls and of course the 3 am snacks and tea. All these develop life-long relationships which in turn help a person to grow on an emotional and subconscious level.
Jagran Josh: Please share a message for future XIMB aspirants. How they should prepare themselves before joining the institute and what they can expect?
Isha Parasramka: Here, would be a detailed strategy on how someone can go about preparing to the entrance exams:
English Section – 2 RCs a day everyday. For vocabulary, consulting the books given by my coaching centre and "Word Power Made Easy. "
Logical Ability - Books by coaching centre, mocks, past year papers, sectional and topic wise tests.
Mathematics – Books by coaching centre, mocks, past year papers, sectional and topic wise tests.
Decision Making – Mainly from mocks and past year papers.
Essay Writing – Reading the Editorial section of a newspaper.
GK – Reading newspaper daily.
Apart from this, Remember why you are coming here. Remember the end goal. Forget everything else. Do your best. That is all you can do, and frankly , it will be more than enough.
The message that I would like to share with the future XIMB aspirants is that- "Don't be scared to explore and work hard, and that's it- It will be an enriching experience for all."
For more such articles on campus life at B-schools, visit www.jagranjosh.com
Also read: