Optical Illusion Challenge: You are a champion if you can spot a snake in 5 seconds
Optical Illusion: A snake is hidden in plain sight in this picture. Can you spot the hidden snake within 5 seconds? Take this optical illusion challenge to test your observation skills now!!
Find Snake in 5 Seconds
Optical Illusion Challenge: Images that trick your brain and challenge your ability to perceive things are known as "optical illusions." Cognitive, physiological, and literal visual illusions are the three kinds of optical illusions.
Optical illusions have the special ability to grab the attention of users and retain it for a specific period of time.
Additionally, optical illusions are helpful for enhancing the cognitive abilities and observational skills of those who practice them regularly.
Are you very observant enough?
Let's find out.
Optical Illusion: There is a lizard in the forest picture. Only geniuses can spot it in 7 seconds. Can you?
Optical Illusion Challenge - Find the Hidden Snake in 5 Seconds
Source: Brightside
Optical illusions are one of the most basic ways to assess one's ability to observe and think critically.
Although it is thought to be a good way to test your intelligence, more advanced methods are available like Mensa IQ Challenge, which can help you identify your true IQ levels.
The image shared above depicts a bunch of bananas and somewhere between the bananas, a snake has managed to hide.
You need to find the snake in the image within 5 seconds to successfully complete the challenge.
It will be a test of your observation skills and it will also help in improving your attention span.
Optical Illusion Challenge: Only geniuses can find a hidden bone in the picture in 9 seconds. Can you?
Did You Find the Snake in 5 Seconds?
Spotting the snake in bananas in 5 seconds is quite a task.
Individuals who have exceptional observation skills will find it easier to spot the hidden snake.
Have you spotted the snake yet?
Check the image carefully and see if you come across anything close to a snake.
The snake can be lurking anywhere.
Hurry up; only a few seconds are remaining.
The countdown has started.
Tick.. Tock..
Two...
One...
And...
Time's up.
How many of you were able to find the snake successfully?
Want to know where it is hiding?
Check out the answer below.
Find the Snake in 5 Seconds - Solution
The snake can be seen on the left side of the image, it is coiled up among the bananas. The snake can be identified by its physical appearance.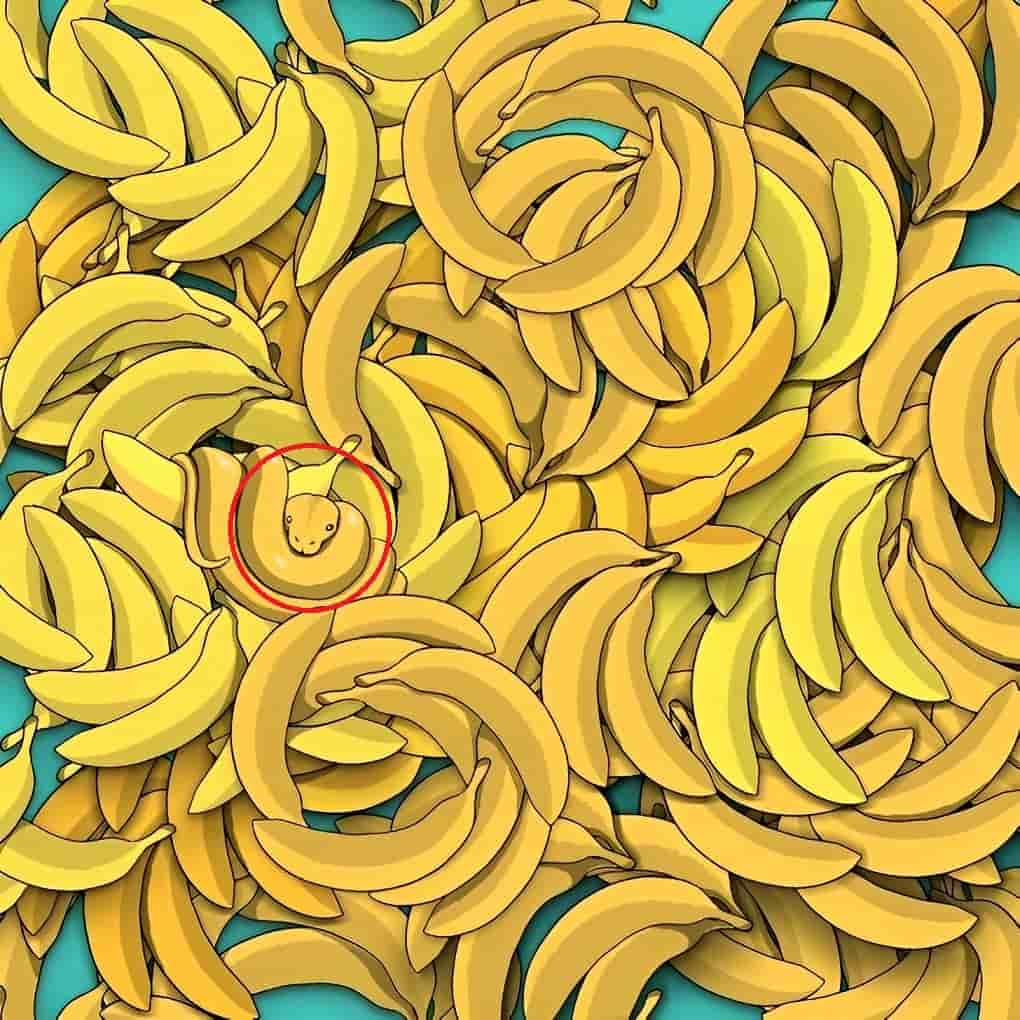 Also Read:
Seek and Find Puzzle: There is a tiny heart in the flock of flamingos. Can you find it in 10 seconds?