How to answer off-beat job interview questions?
Planning to take job interview? Take help of these tips to reply off-beat job interview questions.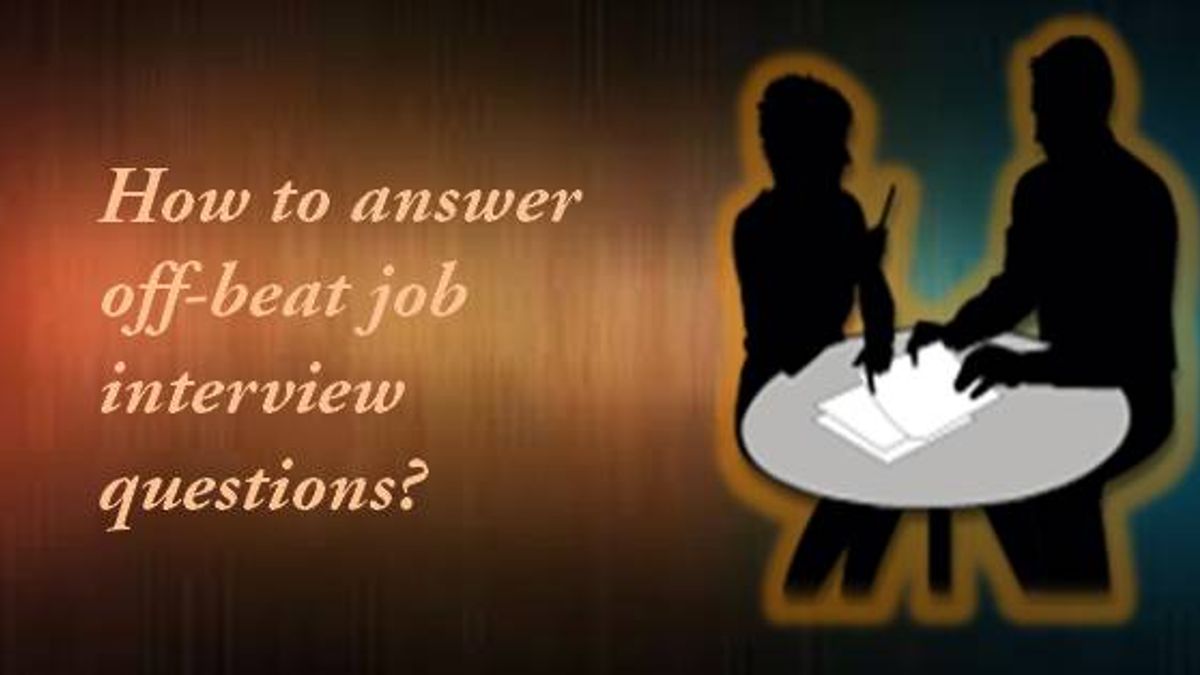 Tips to answer off-beat job interview questions
A job interview is all about leaving a good impression on the interviewer by answering the job interview questions in the best possible way with confidence. But, performing in such a way isn't easy; especially when an interviewer questions you in terms of your experience, qualifications, and skills. And, it gets more difficult and challenging when someone is interviewed for higher positions by a highly experienced interviewer. To check whether a candidate is fit for the job or not, they sometimes ask out-of-the-box questions that baffle the candidates. While most of the candidates lose the balance of mind and begin to stumble while answering to these questions, a few candidates adopt a creative way to reply the question and get success. In this article, we will explain some tips to answer such question that can help you to get success in the job interviews.
Know your interviewer
In job interviews, interviewers ask questions that are related to their own interest, aim, personality, and professional life. In response to the questions, a candidate often seems to avoid such questions.. For example, if an interviewer asks you a question like "What would happen to his job in next couple of years or months," then you need to answers the most probable thing likely to happen with his job. To reach a well-thought-out answer, you need to examine your interviewer's interest, goals, ambitions, experience, specialty, and skills. It requires an extensive research on him/her. So, when planning to take job interviews for higher positions, try to gather information about your interviewer as much as possible. It would help you to think about the most probable thing likely to happen with his job which could help you to crack the job interview.
Take a logical approach while answering
Some tricky questions like, "How many people in a particular city use nail polish" or "how many people wear handcarts," make candidates lose their balance of mind during job interviews. They begin to fumble while replying to even other job interview questions in this process. It ultimately results in failure. In fact, the purpose of such questions is to ascertain whether a candidate is able to think rationally or not. So, when you're asked such questions, don't lose hope but confront them with rationality. And, start the calculations with the help of various important formulas, concepts, and data. If possible, then try to show it to your interviewer. Through this way, you can pursue your interviewer to consider you as a rational candidate that could help you to gain success in a job interview.
Take time to think
In Job interviews, candidates immediately answer the questions like, "If you were not aiming to earn money, what would you be doing instead" without taking a moment to think. This may not create a bad impression if the job interview is meant for the selection of candidate on the lower position. But, if the interviews are conducted for higher positions, it could badly affect your chances of getting selected. So, before answering to questions like this, take enough time to think about important points such as your interest, hobbies, and ambition while selecting a particular work. In this way, you can effectively show that your answer is well-thought out, which could ensure your success in the job interviews.
Know the characteristics of colours
Most of the candidates speak of a colour when the interviewers ask them about their favorite colour. They don't spend enough time to think about which color describes what kind of personality. Following this, they have to face several failure and rejections. For example, the dark blue describes temperamental personality while light blue shows easy-going nature of human behavior. You might have to face failure and rejection if you choose dark blue as your favourite colour. So, know about the different colours and their characteristics. And, always select the colors which show positivity. It would help you to persuade the interviewers to build a positive opinion about you that could pave your way to success.
Finally
Due to the growing competition in the job market, the interviewers have begun to ask candidates questions that aim to filter a large chunk of candidates. Following which cracking job interviews have become a challenging task for the job seekers. The questions they ask in job interviews for the selection of candidate on higher posts often obstruct the success of candidates in job interviews. However, by conducting an insightful research on interviewers, knowing about the different colors and their characteristics, effective reasoning and logical thinking and taking enough time to think, the candidates can crack the most difficult job interviews.