CBSE Class 9 Science Chapter-wise MCQs with Answers in PDF
MCQ questions and answers on Class 9th Science are provided here to help students revise the fundamental concepts and perform well in their school and board examinations.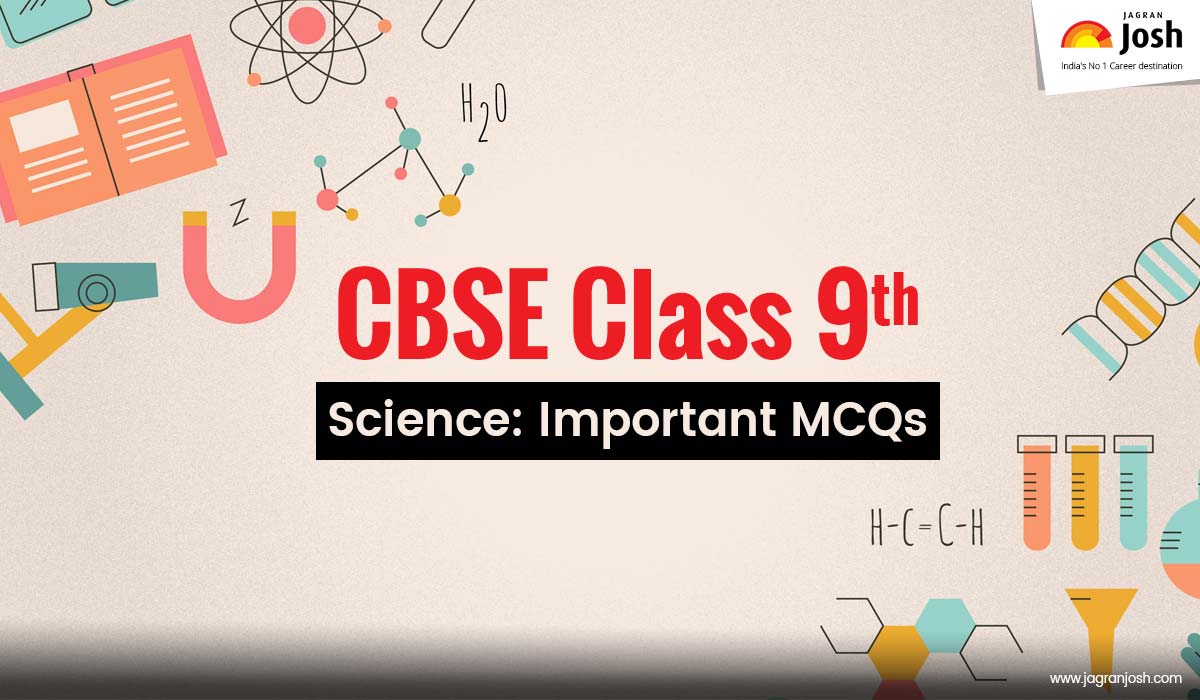 CBSE Class 9 Science Important MCQs from All Chapters
All the CBSE schools in the country are closed due to the outbreak of the COVID-19 pandemic. Though schools are arranging online classes to engage students in active learning, students should focus on self-study to cover up the loss that occurred in their studies in the current academic session. Instead of getting panicked, students should take this situation of house-arrest as an opportunity to improve their learning skills that will ultimately help them to perform outstandingly in their school examinations.
Also Read: CBSE Class 9 Complete Study Material for Self-Study during Lockdown
We are providing here the chapter-wise important MCQs for Class 9 Science. Students can practice these questions and answers to revise the key concepts and obtain excellent marks in their Science paper.
Check below the chapter-wise Important MCQs for CBSE Class 9 Science:
MCQs on Chapter 1: Matter in Our Surroundings
MCQs on Chapter 2: Is Matter Around Us Pure
MCQs on Chapter 3: Atoms and Molecules
MCQs on Chapter 4: Structure of the Atom
MCQs on Chapter 5: The Fundamental Unit of Life
MCQs on Chapter 7: Diversity in Living Organisms
MCQs on Chapter 9: Force and Laws of Motion
MCQs on Chapter 10: Gravitation
MCQs on Chapter 11: Work and Energy
MCQs on Chapter 13: Why Do We Fall Ill
MCQs on Chapter 14: Natural Resources
MCQs on Chapter 15: Improvement in Food Resources
Also Check: Chapter-wise Important MCQs for CBSE Class 9 Maths
In the CBSE Class 9 Science paper of 2020 examination, a significant number of questions were in the format of Multiple Choice Type Questions (MCQs). The same pattern is expected to be followed in the 2021 examinations. To do well in these questions, students should clearly know all the basic concepts. To help students revise all important concepts and topics in a short-time but effectively, we have provided here the chapter-wise MCQs for CBSE Class 9 Science. MCQs from all three divisions of Science, viz. Physics, Chemistry and Biology are provided here. Students can practice with these questions and also check the correct answers here. Solving these questions will help students revise the important concepts form all chapters which will help them to attempt other objective type questions easily in the exams. This will definitely help them to enhance their scores.
In CBSE Class 9 Science Exam 2020, 25% of the total marks were dedicated to the objective type questions. Section A of the Class 9 Science question paper included only objective type questions of 20 marks. These questions asked in different formats like MCQs, Vey Short Answer Type Questions (VSAQs), Assertion-Reason Type Questions, etc. To attempt all such questions appropriately, students just need to be good at basic concepts and possess good analytical skills which they can achieve by practicing the class 9 Science chapter-wise MCQs provided by Jgran Josh.
About the MCQs provided by Jagran Josh
CBSE Class 9 Science MCQs provided here are prepared by subject experts and cover all the fundamental concepts involved in class 9 Science NCERT. All the questions are provided with correct answers. These questions bring you the extract of the all information given in class 9 Science. MCQ questions based on definitions, diagrams, formulas and important facts are provided here. Though these questions may not be directly asked in the exam, you may have questions based on similar concepts. So, try to practice these chapter-wise MCQs thoroughly to fine-tune your preparations and score good marks in the exam.
Also Read:
CBSE Class 9 Revised Syllabus 2020-2021: All Subjects
CBSE Class 9 Complete Study Material for Preparation of Annual Exam 2021