IIM Kashipur records 100% Final Placement for PGP Batch 2017-19 batch
IIM Kashipur has completed its final placement with 100% placements for PGP batch 2017-19 and has recorded average salary of Rs 24 LPA. Read more about the PGP placement highlights at IIM Kashipur.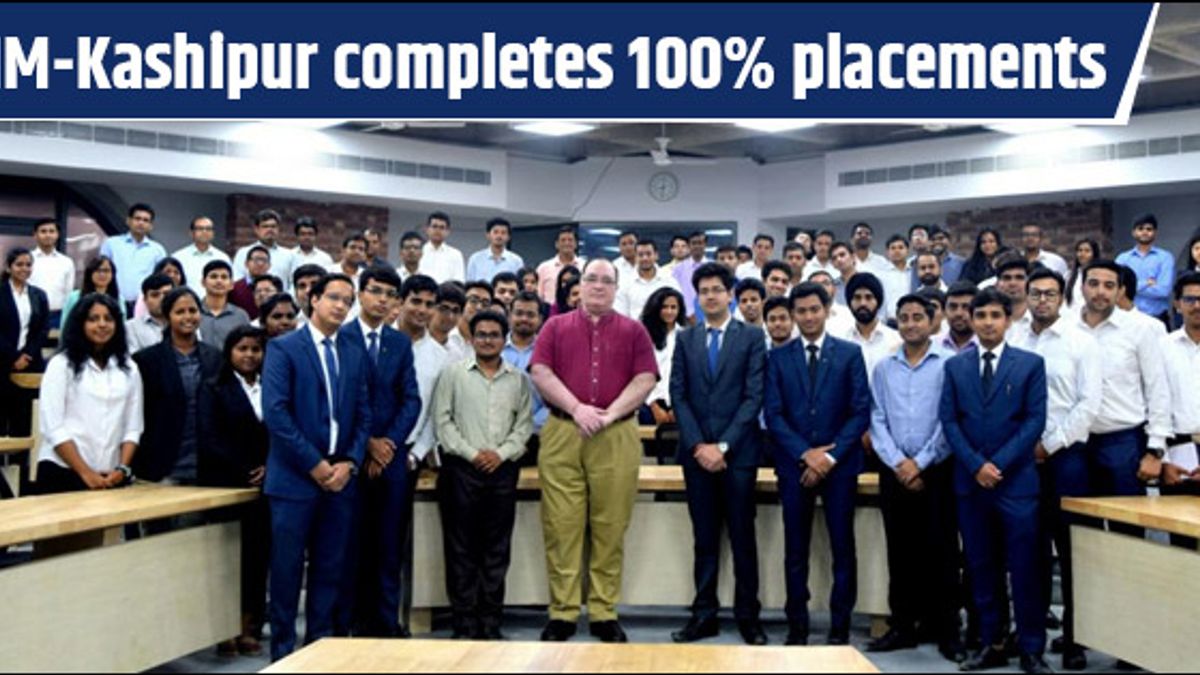 IIM Kashipur completes 100% Final placement
Another news to cheer for the students of Indian Institute of Management (IIM) Kashipur, as the institute has achieved its milestone of recording 100% final placements for the batch of flagship Post Graduate Program in Management programme (2017-19). It is the 8th consecutive year since the institute has been following this ritual. IIM Kashipur welcomed a total of 72 top brands on the campus to get the candidates hired for the summer placements. The institute takes pride in this achievement, Dr. K N Badhani, Director, IIM Kashipur said ''It gives me immense pleasure to announce that IIM Kashipur has achieved its 100% placement for 2017-19 batch. We are thankful to all the recruiter for being a partner in progress of the Institute."
Salary Statistics at IIM Kashipur
This year, the institute has recorded an average salary of Rs 12.24 lakh for the season. The highest compensation being offered to a student stood at Rs 28 lakh per annum. The top 10 percentile students have received an average salary of INR 24 lakh.
Also Read: IIM Nagpur completes 100% Placements
Recruiters on IM-Kashipur Campus
In the placement drive of IIM Kashipur, a total of 72 companies participated and arrived on the campus to hire the talented pool of candidates. Overall 215 positions were offered to 196 students who applied for placements through the institute's placement cell. BFSI sector took the cake with the highest number of candidates preferring placements in this sector.
Other than the BFSI sector, candidates got placements in other sectors such as FMCG, healthcare, advertising, technology, manufacturing, operations, e-Commerce, retail etc.
You might want to read: IIM Lucknow Placement Report 2019: 100% students placed in 3 days
IIM Kashipur: Recruiters on the Campus
Several recruiters visited the campus of the institute. In the BFSI sector, dominant players of the industry namely ICICI Bank, RBL Bank, TATA Capital, HDFC Bank, Muthoot Group, Yes Bank, Capital Trust, Swadhaar Finserve, and Aditya Birla's Sun Life Insurance visited the campus to offer lucrative positions to the students across various domains such as marketing, finance, HR retail, and operations.
Consulting firms such as Deloitte, KPMG, E&Y, MAQ Software, Futures First, eClerx visited the campus among other prominent players.
More such articles: IIM Indore completes Final Placement with 200 recruiters
First time recruiters in IIM Kashipur
There were 37 first time recruiters on the campus that showed keen interest in hiring the candidates namely Aditya Birla Capital, Coffee Day Beverages, JSPL, OfBusiness, Godrej & Boyce, 4TiGO, etc.
Also Read: IIM Bangalore Placement Report 2019: 100% Placement achieved in 2 days
About IIM Kashipur
IIM Kashipur was established in the year 2011 and was the first IIM setup outside the metropolitan cities. The institute commenced its operations from July 2011 under the mentorship of IIM Lucknow. The institute has received 20th position among management institutions under the National Institutional Ranking Framework 2018 by Ministry of Human Resource Development, Government of India. The institute has gained a leading position in terms of imparting management education to Indian and global candidates. At present the institute offers Post Graduate Programme in Management (PGPM), a two year full time residential programme. Alongside, it also offers a two year weekend Executive Post Graduate Programme (EPGPM) for working executives.
So this was all about the placements at IIM Kashipur! For more updates on the MBA placements, keep visiting MBA section of jagranjosh.com!
More on MBA Placements:
IIT Kharagpur's VGSoM completes first phase of final placements