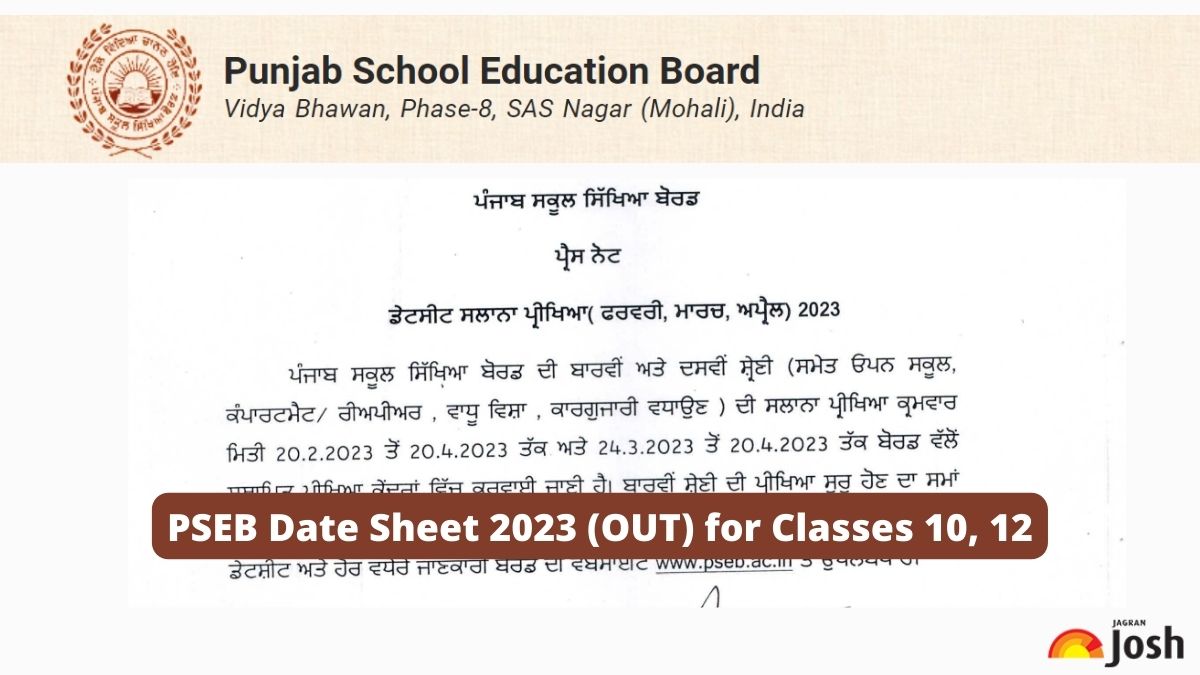 PSEB Date Sheet 2023 (OUT): As per the recent updates the Punjab School Education Board (PSEB) has announced complete subject-wise Punjab Board class 10, 12 dates 2023 today - January 25. Students can download the PSEB date sheet 2023 pdf for 10th, 12th from the official website - pseb.ac.in. As per the released schedule, the Punjab board class 12 exam 2023 will be held from February 20 to April 20 for Humanities, Science, Commerce and Agriculture streams. Whereas, the PSEB class 10 board exams 2023 will be conducted from March 24 to April 20. Along with this, PSEB class 5th and 8th board exam subject-wise dates have also been released.
PSEB Date Sheet 2023 for Class 10th
The Punjab 10th annual board exams will be held in the morning shift from 10 to 1:15 AM. Check complete Punjab Board class 10th subject-wise date sheet below.
Exam Dates

Subjects

March 24, 2023

Punjab-A, Punjab History and Culture-A

March 27, 2023

English

March 28, 2023

Music (Gayan)

March 29, 2023

Punjab-B, Punjab History and Culture-B

March 31, 2023

Computer Science

April 1, 2023

Mechanical Drawing & Painting

April 3, 2023

Mathematics

April 5, 2023

Science

April 6, 2023

Agriculture

April 10, 2023

Social Science

April 11, 2023

Welcome Life

April 12, 2023

Hindi / Urdu (Alternate Language)

April 13, 2023

Home Science

April 15, 2023

Health and Physical Education

April 17, 2023

Music Tabla

April 18, 2023

Physical Education

April 19, 2023

Music Vadan

April 20, 2023

Tailoring

Languages: Sanskrit/ Urdu/ French/ German

Pre-vocational: Computer Science (pre-vocational)/ Repair and Maintenance of Household Electrical Appliances/ Electronic Technology/ Repair and Maintenance of Agriculture Power Machines/ Knitting (Hand and machine)/ Engineering, Drafting & Duplicating/ Food Preservation/ Manufacturing of Leather Goods

NSQF subjects - Groceries/ Automobiles/ Healthcare/ Information Technology/ Security/ Health & Lifestyle/ Travel & Tourism/ Physical Education and Sports/ Agriculture / Apparel/ Construction/ Plumbing/ Power
Punjab Board 12th Date Sheet 2023 - Direct Link (Available Now)
PSEB Date Sheet 2023 for Class 12th
The PSEB class 12 board exam 2023 will be conducted in the afternoon session from 2 to 5:15 pm. Check below PSEB class 12 subject-wise time table below -
| | |
| --- | --- |
| Exam Dates | Subjects |
| February 20, 2023 | General Punjabi and Punjab History & Culture |
| February 21, 2023 | Music (Vocal) |
| February 22, 2023 | Philosophy, Chemistry, Business Economics and Quantitative Maths- II |
| February 23, 2023 | Sociology |
| February 24, 2023 | General English |
| February 27, 2023 | Media studies, Biology |
| February 28, 2023 | History |
| March 1, 2023 | Mathematics |
| March 2, 2023 | Punjabi Elective, Hindi Elective, English Elective, Urdu |
| March 3, 2023 | Sanskrit, French, German |
| March 4, 2023 | Political science, Physics |
| March 6, 2023 | Environmental Studies |
| March 20, 2023 | Geography |
| March 21, 2023 | Computer Application |
| March 22, 2023 | Business Studies- II |
| March 24, 2023 | Gurmat Sangeet |
| March 27, 2023 | Physical Education & Sports |
| March 28, 2023 | Welcome Life |
| March 29, 2023 | Home Science |
| March 31, 2023 | Economics |
| April 1, 2023 | Dance |
| April 3, 2023 | Public Administration |
| April 5, 2023 | Religion |
| April 6, 2023 | NSQF Subjects - Prachoon / Automobiles/ Physical Education/ Information Technology/ Security/ Health & Lifestyle/ Travel & Tourism/ Agriculture/ Apparel/ Construction/ Plumbing/ Power |
| April 10, 2023 | Psychology |
| April 11, 2023 | History and appreciation of arts |
| April 12, 2023 | Agriculture |
| April 13, 2023 | Accountancy-II |
| April 15, 2023 | Music Instrumental |
| April 17, 2023 | Defence Studies |
| April 18, 2023 | National Cadet Corps |
| April 19, 2023 | Computer Science |
| April 20, 2023 | Music (Tabla), Fundamentals of E-Business |
Check Punjab Board Class 12 Date Sheet 2023 - Direct Link (Available Now)
Also Read: CBSE Exam 2023: Class 10 and 12 Admit Card Expected Soon, Check Details Here
REGISTER FOR RESULTS UPDATES