CBSE Class 12 Economics Question Paper 2023: The Class 12 Economics exam of the Central Board of Secondary Examination (CBSE) board was conducted today, March 17, 2023, from 10:30 AM to 1:30 PM. Economics is a core subject of the commerce stream of CBSE board class 12, and lakhs of students appeared for the exam today. Economics is the study of scarcity and how resources are produced, used and distributed individually and in society. Economics has many applications in daily life and has to be mastered by all students aspiring to venture into accountancy, the management or other financial fields.
The CBSE 12th standard Economics paper is no walk in the park though. It is an important subject, and the same is reflected in its difficulty level. Economics is theoretical in nature but also requires students to analyse numerous charts, figures and graphs. Technical concepts and definitions also have to be learned by heart. However, for students who have a keen interest in the subject and practice regularly, economics is a scoring exam. It's also the favourite graduation course of most commerce and humanities students.
Check the level of the 2023 Economics class 12 paper here. You can read and download the SET 1, 2, 3 and 4 CBSE Class 12 Economics question paper 2023 PDF in the following sections, along with solutions.
Related:
CBSE Class 12 Economics Question Paper and Marking Scheme 2023
CBSE hasn't published the 2023 class 12 Economics exam paper or answer key online yet, but we have sourced the question paper for your reference. You can read and download the CBSE Class 12 Economics Question paper 2023 here.
The 2023 Class 12th Economics exam was 3 hours long, and the total marks were 80. The question paper comprised 34 questions divided into two sections:
Section A – Macro Economics
Section B – Indian Economic Development
The Paper Contained:-
20 multiple-choice questions 1 mark each
4 short answer questions of 3 marks each
6 short answer questions of 4 marks each
4 long answer type questions of 6 marks each
Internal choice was given but all questions were compulsory.
CBSE Class 12 Economics Question Paper 2023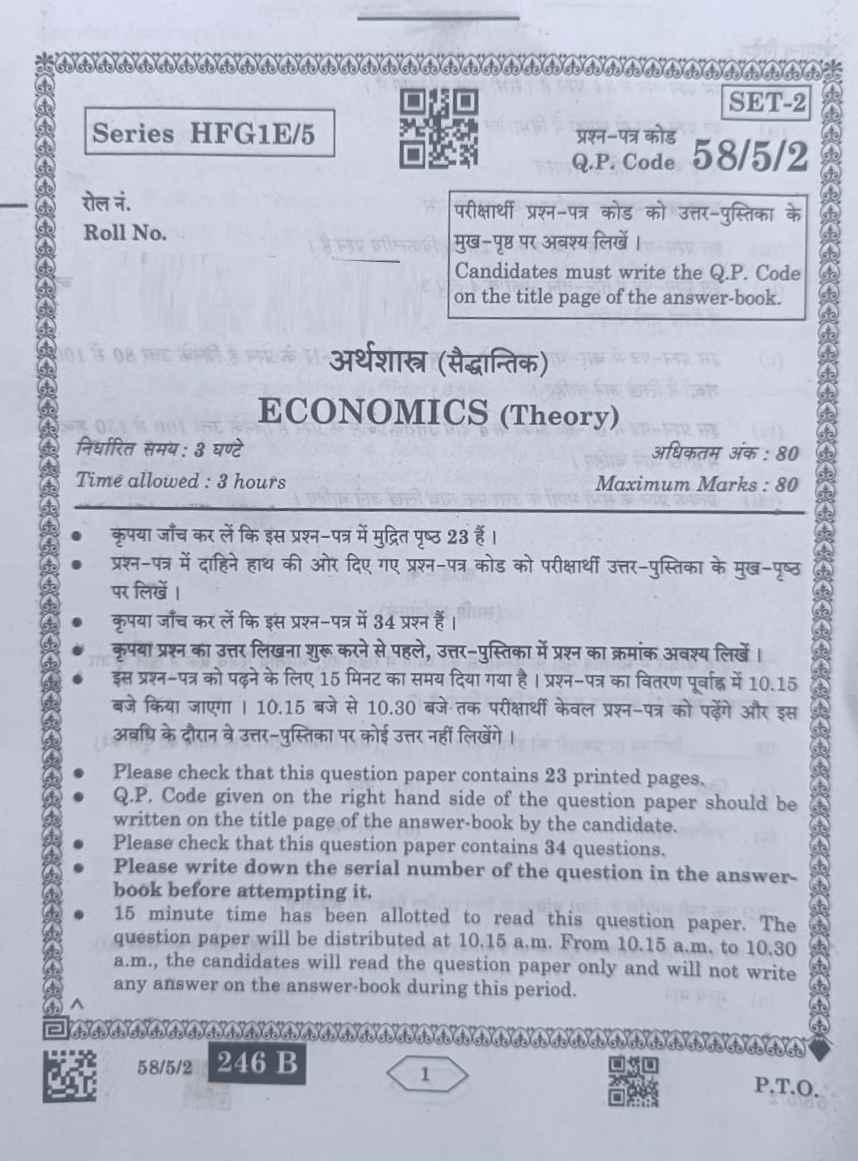 CBSE Class 12 Result Date 2023
CBSE Class 12 board exam results will be declared in May or June 2023 (tentative).
You'll able to check your CBSE Class 12 Results by clicking the following links.
---
Check other CBSE Class 12 Economics Exam study material for your reference below -
Following are the links to all the necessary CBSE Class 12 resources you'll need for the upcoming Board Exams. Be sure to check them before the exam.