UP Board Class 12 NCC Syllabus 2023-24: The NCC (National Cadet Corps) was established in 1948 under the Ministry of Defence. Its primary objective is the grooming of young minds into responsible citizens and future leaders. It operates under the motto of "Unity and Discipline" and seeks to instill in its cadets a sense of national pride, social service, and dedication to the welfare of the nation.
The NCC program offering is divided into the Junior Division (for school students), the Senior Division (for college students in undergraduate programs), and the Girls Division (for female cadets in both school and college).
UPMSP have NCC as one of the subjects in their Class 12 curriculum. UP Board Class 12 NCC syllabus is divided into theory and practical. The UP Board Class 12 NCC practical curriculum includes a wide range of activities designed to foster physical fitness, leadership skills, and a sense of adventure. These activities not only build their physical endurance but also enhance their problem-solving abilities, teamwork, and decision-making skills. The theory portion is important to give basic knowledge about the subject. Read this article to understand the UP Board Class 12 NCC course structure and syllabus 2023-24.

UP Board Class 12 NCC Course Structure 2023-24
Theory Part (70 Marks)

Unit

Marks

Unit-1 National Integration And Secularism

10

Unit-2 Personality Development And Leadership

10

Unit - 3 Military History And Wars

10

Unit-4 Civil Challenges And Communication System

10

Unit-5 Disaster Management And Internal Challenges

08

Unit-6 Social Awareness And Community Development

08

Unit-7 Awareness Of Health And Hygiene

07

Unit-8 Environmental And Water Conservation

07

Practical Part (30 Marks)

Map Reading

5 Internal, 5 External

Territory and Art of War

5 Internal, 5 External

Dikman

10
UP Board Class 12 NCC Syllabus 2023-24
Objective of the course as per the UP Board- To orient the students in nation-building and development, to provide them with character-building leadership qualities and special skills as well as to make them aware of problems like security, social political, economic, environmental health security and disaster management. To create awareness about the challenges, so that their future can become bright, progressive and disciplined.
National Cadet Corps (N.C.C.) will be taught as an optional subject. It will have only one written question paper of 70 marks and a practical test of 30 marks, the total passing marks will be 33. It will be necessary to pass written and practical examinations separately.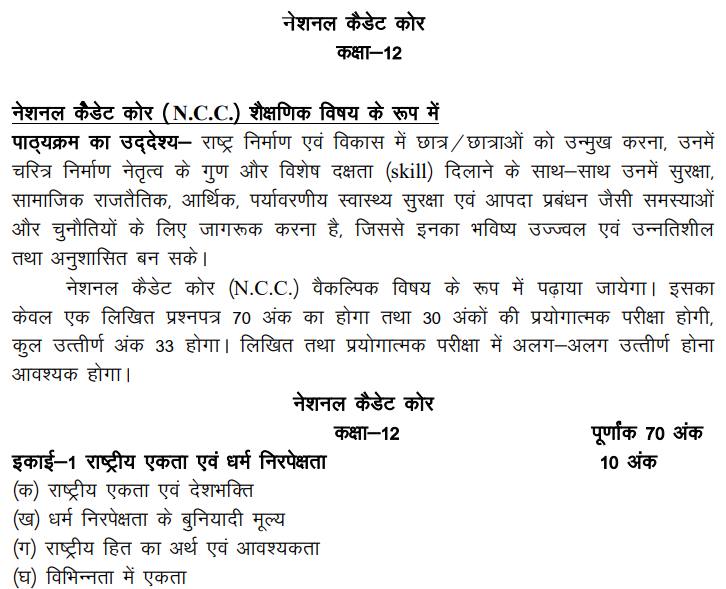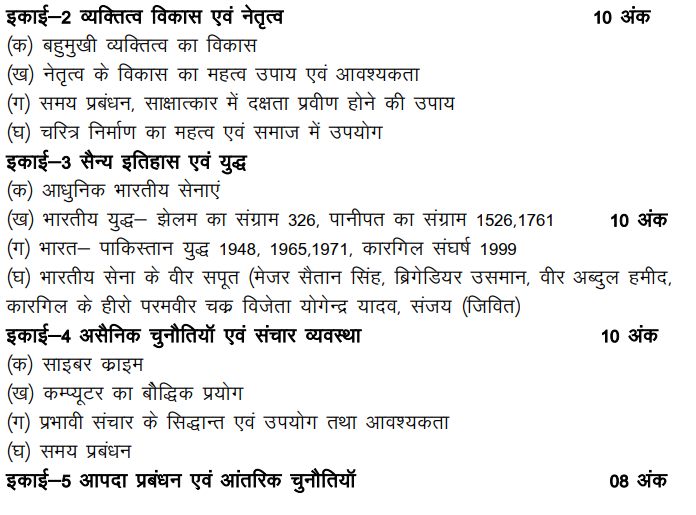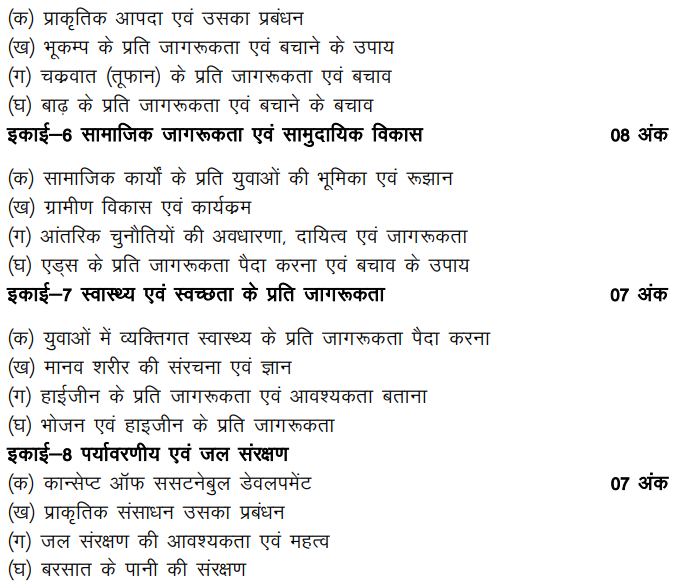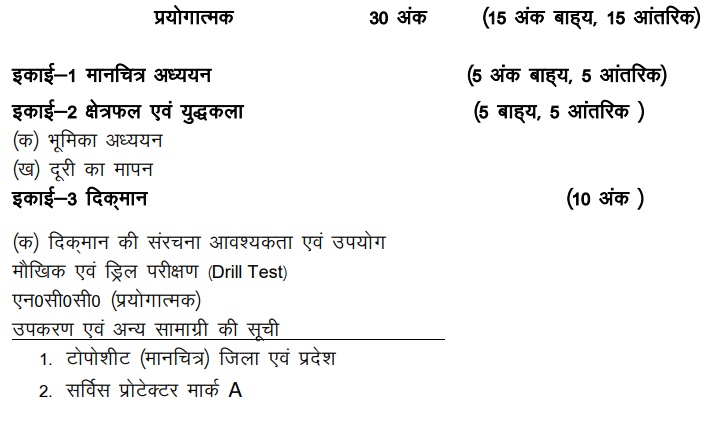 Also Read: