UP Board Class 11 Economics Syllabus 2023-24: Class 11 of UP Board is the second most senior standard and the students of this class will be sitting for the Class 12 UP Board examination 2024. The syllabus of Class 12 is in continuation of what you study in Class 11. Thus, it is essential that you know the syllabus of the Class 11 UP Board. Also, it is very helpful if Class 11 students read the subject content thoroughly and understand the basics as this will be setting a strong foundation for your board examinations. Uttar Pradesh Board, UPMSP has already released the syllabus and it's time for students to have a copy of it to guide them throughout the academic year 2023-24.
This article will elaborate on the detailed syllabus of Class 11 Economics for UP Board students. Economics is one of the important subjects for commerce students and majorly impacts the overall percentage. Thus, read the UP Board Class 11 Economics properly and download the pdf attached to this article.

---
UP Board Class 11 Syllabus 2023-24 (All Subjects) PDF
UP Board Class 11 Economics Course structure
Students of Class 11 Economics UP Board can have a look at the below-mentioned course structure directly taken from the UP Board Class 11 Economics syllabus 2023-24. The below mansion data represents the marks allocation to each part under two sections. The distribution of marks is 50-50. This same is elaborated in the Hindi language as well. Read the article to know the Economics Class 11 UP Board's latest syllabus in Hindi.
Section A
Statistics In The Context Of Economics

S. No.

Topic

Marks

1

Introduction

05

2

Collection, Organisation and Presentation of Data

20

3

Statistical Tools and Interpretation

13

4

co-relation

06

5

Index

06

Total

50
Section B
Economic Development Of India

S. No.

Topic

Marks

1

Experience of development (1947-1990) and economic reforms started from 1991.

17

2

Current challenges before the Indian economy.

25

3

India's own development experience - comparison with neighbouring countries

08

Total

50
UP Board Class 11 Economics Syllabus 2023-24 (Hindi)
Students of Class 11 UP Board with one of the major subjects as Economics can read the syllabus for the same in Hindi. The syllabus is in the format of UP Board as released on their official website thus no room for discrepancy.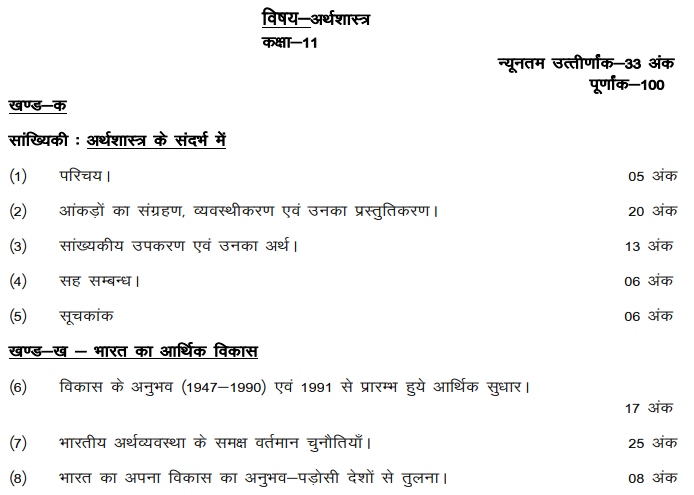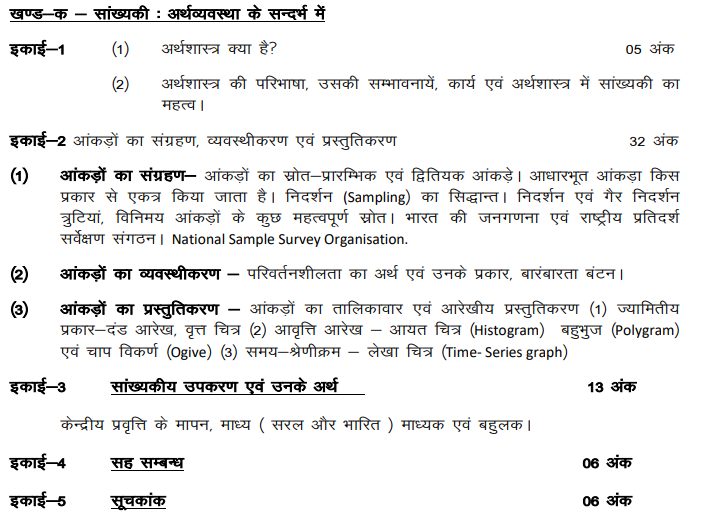 Also Read: