CBSE Class 12 Biology Paper Analysis 2023: The Central Board of Secondary Education (CBSE) Class 12th Biology board exam 2023 was held today, 16th March 2023. The exam was 3 hours long and was conducted all over the country from 10.30 AM to 1.30 PM, with lakhs of students appearing and putting in their best efforts. Biology is an important subject for science stream students, especially for medical science aspirants. Mastering CBSE Class 12 Biology is a must if you want to pursue a successful career as a doctor, nurse, scientist, forensic analyst etc.
As such, biology is a crucial exam, and most students want to know the difficulty level of the question paper and how they fared. In this article, we present a comprehensive 2023 CBSE Class 12 Biology exam review for students to judge their performance and get an idea of their expected scores. Check out the following sections to know more about the CBSE class 12 Biology exam analysis, question paper pdfs and answer key.
CBSE Class 12 Biology Exam 2023 Key Highlights
| | |
| --- | --- |
| Board | Central Board of Secondary Education (CBSE) |
| Official Website | cbse.gov.in |
| Class | 12 |
| Subject | Biology |
| Exam Date | March 16, 2023 |
| Exam Time | 10.30 AM to 1.30 PM |
| Paper Difficulty Level | Moderate |
CBSE Class 12 Biology Exam Paper - Expert Review 2023
CBSE Class 12 Biology Paper 2023 is now over, and students had varying reactions. Some found it difficult while others barely felt any challenge. The Biology exam is always tricky due to the subject's conceptual nature.

The questions asked in the 2023 CBSE 12th Biology Exam were mostly straightforward, and there was nothing too tricky except for a few questions, which happen every year.
Ms Manjulatha S., a TGT Science teacher at JAIN International Residential School, Bangalore quoted "A balanced distribution of questions was found in the biology paper, including questions that were easy, average and difficult. The paper had a well-defined focus for a diverse group of students. The questions in sections B, C, and D were moderately challenging, but Part E was mostly direct. Despite following the CBSE 2023 biology sample paper's format, the paper also required technical application to answer the questions. Students who have thoroughly prepared with NCERT books will do well in the exam."
According to our subject experts, section A consisting of MCQs and assertion-reason-based questions was the most scoring and easiest part of the exam. However, the difficulty level increased from there.

The short answer questions and case based questions of Section D, especially the Section C was the most difficult part of the paper and required out-of-the-box thinking. The long answer questions were moderate but direct from the book.

Per teachers, most questions were direct and simple and students who judiciously prepared from the NCERT books and sample papers will score highly.

The difficulty level of the CBSE Class 12 Biology Exam was moderate. Some students even found it easy.
Aditi Saho & Pragnya of class 12 from JAIN International Residential School, Bangalore, JAIN International Residential School, Bangalore said "The paper was very much doable. It covered the entire syllabus. I was able to answer all the questions as I prepared following CBSE sample paper along with NCERT Books, simulataneously".
You can check the answer key in this article and stay tuned for further updates on the 2023 CBSE Class 12 Biology exam.
Type Of Questions Asked In Today's CBSE 12th Biology Exam
The CBSE Class 12 Biology exam consisted of 5 sections equaling 70 marks. The paper duration was 3 hours and candidates were provided 15 minutes to read the question paper.
CBSE 12th Biology Exam Pattern and Blueprint
Section A: 16 MCQ and Assertion-Reason type questions of 1 mark each.

Section B: 5 very short answer questions of 2 marks each.

Section C: 7 short answer questions of 3 marks each.

Section D: 2 case-based questions of 4 marks each.

Section E: 3 long answer questions of 5 marks each.
CBSE Class 12 Biology Marks Distribution 2023
| | | |
| --- | --- | --- |
| Unit | Title | Marks |
| VI | Reproduction | 16 |
| VII | Genetics and Evolution | 20 |
| VIII | Biology and Human Welfare | 12 |
| IX | Biotechnology and its Applications | 12 |
| X | Ecology and Environment | 10 |
CBSE Class 12 Biology Question Paper 2023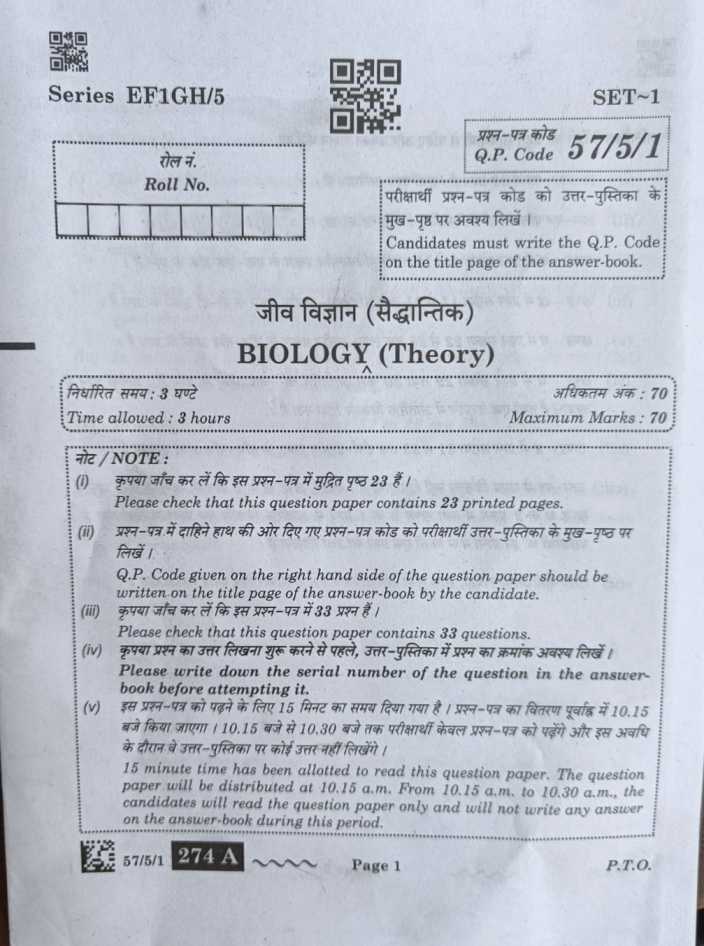 CBSE Class 12 Biology Answer Key 2023
When will CBSE Class 12 Result 2023 release?
CBSE Class 12 board exam results will be declared (tentatively) in May or June 2023.
You will be able to view and download your CBSE Class 12 Results by visiting the links given below:
---
Check other related CBSE Class 12 Biology study material for your reference below.
Also make sure to take a look at the following important resources for the remaining CBSE Class 12 board exams 2023.