MICAT 2021 Exam Pattern: All about Duration, Marking Scheme, No. of Questions
Check & Download Latest and detailed MICAT Exam Pattern 2021. Know MICAT Exam Total marks, Marks distribution process, Number of Questions, Exam Duration etc here.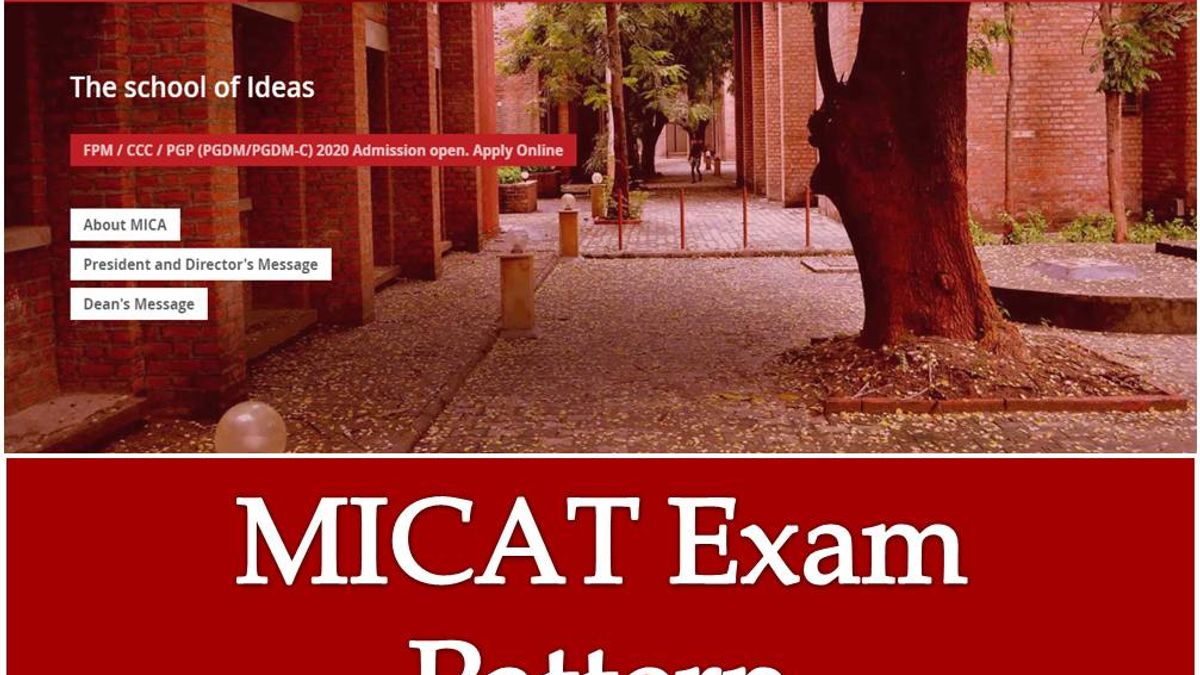 MICAT Exam Pattern
MICAT Exam Pattern 2021 - MICAT exam pattern is prescribed by Mudra Institute of Communications, Ahmedabad (MICA). MICAT MBA entrance exam entrance exam is conducted twice in a year. This year, the first phase of MICAT exam will be conducted on 5th December 2020 and the Phase 2 exam is scheduled for 30th January 2021. So aspirants must prepare well for the exam as the exam deadline approaches amid other MBA entrance exams.
The MICAT 2021 exam pattern will guide you about the comprehensive information pertaining to exam structure, number of questions that are likely to be asked. You will also get to know about the MICAT exam duration, and marking scheme among others. The objective of MICAT exam pattern is to enable candidates to create a sound strategy for appearing and scoring high in the MICAT entrance exam.
Read on to know more of the exam pattern of MICAT 2021 including various topics, number of questions and the marking scheme of MICAT exam.
MICAT Exam Pattern 2021
Here is a brief about the MICAT Exam pattern. Read it carefully to prepare a sound study plan to ace the exam this year:
MICAT Exam

MICAT Sections

No. of Questions

Time Allotted

Section I

Psychometric Test

35

25 Minutes

Section II

Verbal Ability (VA)

25

1 Hour 45 Minutes

(105 minutes)

Quantitative Ability (QA)

25

General Awareness (GA)

25

Divergent-Convergent Reasoning (DCR)

39

Section III

Descriptive Test

4

35 Minutes

Total

144

2 hour 45 mins
Previously, MICAT exam was divided into six sections namely, Descriptive Test, Verbal Ability, Quantitative Ability, General Awareness, Divergent- Convergent Reasoning and Psychometric Test. MICAT exam has to be completed in 2 hours 45 minutes duration. The entrance exam is to be held in online mode only. Aspirants can expect 140-150 total questions in the MICAT exam. It is to be noted the total number of questions in MICAT exam is not fixed and it may vary within sections.
MICAT Marking Scheme
As per the marking scheme of MICAT exam:
For each correct option chosen, candidates will get +1 mark.
For each wrong response in the quantitative ability, verbal ability, divergent convergent reasoning and general awareness sections, there is negative marking of 0.25 mark per question.
In Psychometric section, no marks will be deducted for a wrong answer. It is compulsory to answer all questions in this section, failing to do so will result in disqualification
The registrations of MICAT exam commences from October and will continue until January 2021 for Phase-I and Phase-II exam. Those interested in taking the MICAT exam should keep a check on our website for any update on MICAT 2021 exam. All the latest news and notification will be updated here.
Visit www.jagranjosh.com for news and update on MICAT 2021. You can also subscribe to our weekly newsletter to receive updates on the latest MBA exams, institutes and events!
Also Read: About MICAT Exam Syllabus – Click Here
Also Read: About MICAT Exam Registration Process – Click Here
Also Read: About MICAT Exam Important Dates – Click Here
Also Read: About MICAT List of Participating Institutes – Click Here