JEE Main Result 2023
JEE Main Result 2023 has been announced by the NTA on its official website which is jeemain.nta.nic.in on 29 April 2023. In order to download JEE Main result, one is required to visit NTA website and login using his/her JEE Main 2023 application number and password/date of birth. NTA declared the JEE Main final answer key on 24 April. The JEE Main Session 2 exam concluded on April 6, 8, 10, 11, 12, 13 and 15.Here is the direct link to download JEE Main session 2 result:
JEE Main Session 2 Result Link
After the announcement of JEE Main result, the top 2,50,000 qualifiers listed in the result of JEE Main 2023 will be eligible to appear in JEE Advanced 2023 exam. Read the complete post to know all about JEE Main April 2023 result date and time, rank list, marks vs percentile, and more.
JEE Main Result 2023 Date, Time
JEE Main 2023 result for session 2 is expected to be announced on 24 April. However, an official update on the same is expected by NTA.
JEE Main 2023 Events

JEE Main 2023 Date

JEE Main exam date 2023

Session 1- 24, 25, 28, 29, 30, 31 January and 1 February 2023

Session 2- April 06, 08, 10, 11, 12, 2023

JEE Mains result date 2023

Session 1 - 7 February 2023, Tuesday

Session 2- April 29, 2023
How to Download JEE Main Result 2023?
Candidates can download JEE Main result 2023 can do so by visiting the NTA website. Here are the steps to download JEE Main result PDF.
Visit the official website of JEE Main which is jeemain.nta.nic.in.
Click on the 'View JEE Main 2023 result' or 'View score card' that appears on the screen.
Enter your JEE Main 2023 login credentials
Click on submit butt to view JEE Main 2023 result.
Your JEE Main 2023 scorecard will be displayed on the screen.
Download it and save its copy for future reference.
JEE Main result sample: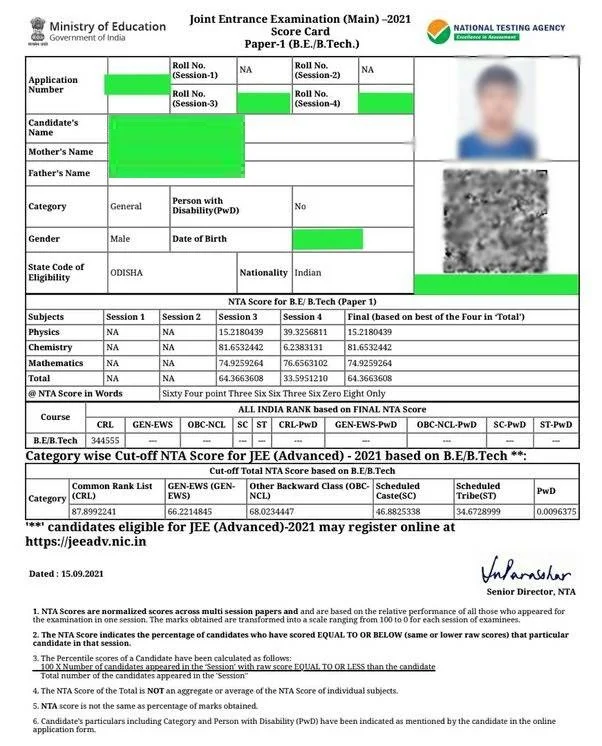 JEE Main 2023 Result: Website to download the JEE Main result
After the release of NTA JEE Main result 2023, candidates will be able to download the result from the following mentioned websites.
jeemain.nta.nic.in 2023
ntaresults.nic.in 2023
nta.ac.in 2023
JEE Main Result 2023: Details Available in JEE Main Result
JEE Main result 2023 is an important piece of document for eerie JEE Main candidate who appears for the exam. It is that document that is ued to take admissions in NITs and other engineering colleges. The following details are mentioned on the JEE Main result PDF.
Candidate's Name
Application number and roll number
Parents' details
State of eligibility
Nationality
Category (reserved or unreserved)
Specification on persons with disability
Total NTA JEE scores
JEE Mains Result 2023 - How Percentile Score is Calculated?
NTA releases JEE Main result through the normalization process. JEE Main exam is held on multiple days on multiple days, hence, in order to ensure transparency in the examination process, normalization process is adopted to determine the JEE Main result and rank of the candidates. NTA will rank the JEE Main 2023 candidates on the basis of the percentile score obtained by the candidate.
The formula to calculate JEE Main result is as follows: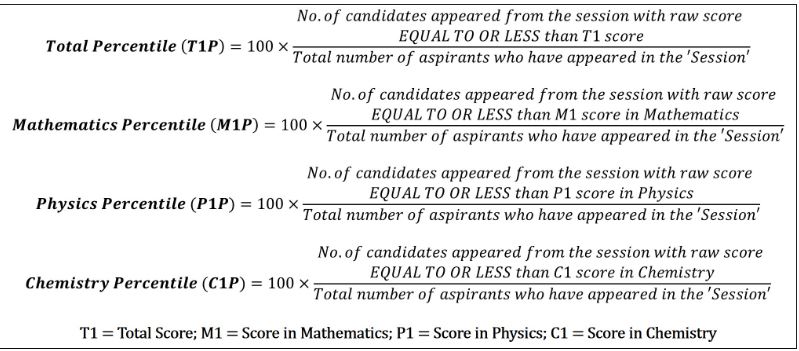 JEE Main Result 2023: Last 4 year Qualifying Cut Off Marks
NTA will announce the JEE Main result along with other details in it. The result will have the qualifying cut off marks of the candidates for each category of candidates. Go through the JEE Main previous year cut off marks that is given in the table below.
JEE Main Qualifying Cut Off
Category
2022
2021
2020
2019
General
88.4121383
87.8992241
90.3765335
89.7548849
Gen-PwD
0.0031029
0.0096375
0.0618524
0.11371730
EWS
63.1114141
66.2214845
70.2435518
78.2174869
OBC-NCL
67.0090297
68.0234447
72.8887969
74.3166557
SC
43.0820954
46.8825338
50.1760245
54.0128155
ST
26.7771328
34.6728999
39.0696101
44.3345172
What is the difference between JEE Main Percentile ad JEE Main Percentage?
JEE Main percentile and JEE Main percentage are two different concepts. JEE Main percentage is the number out of 100 while the percentile is the score for the candidate that have scored less marks than him/her in the exam.
JEE Main 2023 Result: Marks v/s Percentile
JEE Main result marks vs percentile is given below in the table for your convenience.
| Marks | Percentile | Rank |
| --- | --- | --- |
| 300-281 | 100 - 99.99989145 | 1 - 20 |
| 271 - 280 | 99.994681 - 99.997394 | 80 - 24 |
| 263 - 270 | 99.990990 - 99.994029 | 83 - 55 |
| 250 - 262 | 99.977205 - 99.988819 | 210 - 85 |
| 241 - 250 | 99.960163 - 99.975034 | 367 - 215 |
| 231 - 240 | 99.934980 - 99.956364 | 599 - 375 |
| 221 - 230 | 99.901113 - 99.928901 | 911 - 610 |
| 211 - 220 | 99.851616 - 99.893732 | 1367 - 920 |
| 201 - 210 | 99.795063 - 99.845212 | 1888 - 1375 |
| 191 - 200 | 99.710831 - 99.782472 | 2664 - 1900 |
| 181 - 190 | 99.597399 - 99.688579 | 3710 - 2700 |
| 171 - 180 | 99.456939 - 99.573193 | 5003- 3800 |
| 161 - 170 | 99.272084 - 99.431214 | 6706 - 5100 |
| 151 - 160 | 99.028614 - 99.239737 | 8949 - 6800 |
| 141 - 150 | 98.732389 - 98.990296 | 11678 - 9000 |
| 131 - 140 | 98.317414 - 98.666935 | 15501 - 11800 |
| 121 - 130 | 97.811260 - 98.254132 | 20164 - 15700 |
| 111 - 120 | 97.142937 - 97.685672 | 26321 - 20500 |
| 101 - 110 | 96.204550 - 96.978272 | 34966 - 26500 |
| 91 - 100 | 94.998594 - 96.064850 | 46076 - 35000 |
| 81 - 90 | 93.471231 - 94.749479 | 60147 - 46500 |
| 71 - 80 | 91.072128 - 93.152971 | 82249 - 61000 |
| 61 - 70 | 87.512225 - 90.702200 | 115045 - 83000 |
| 51 - 60 | 82.016062 - 86.907944 | 165679 - 117000 |
| 41 - 50 | 73.287808 - 80.982153 | 246089 - 166000 |
| 31 - 40 | 58.151490 - 71.302052 | 385534 - 264383 |