CBSE Board Exams 2020: Papers, Analysis, Review, Videos - 10th & 12th
Check question papers of CBSE board exams 2020 (10th & 12th) besides analysis, review, videos & other resources.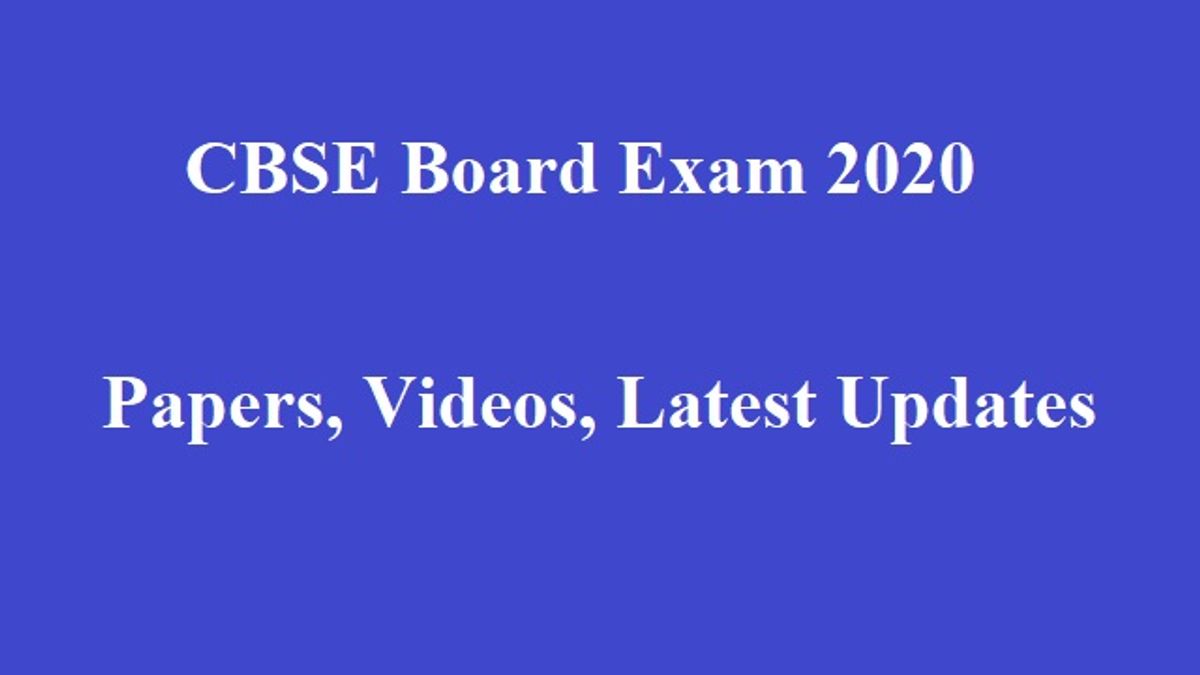 CBSE 2020
CBSE board exams 2020 for 10th & 12th were conducted from 15th February to 18th March 2020 (papers scheduled from 19th March to 31st March were cancelled & made optional due to COVID-19 pandemic). Here Jagran Josh has provided paper analysis, review and video of all the exams conducted by the Central Board of Secondary Education (CBSE). The links to access videos and articles are given below in the table. After the table, you will also get very important links for the preparation of board exams and other competitive exams like JEE Main, JEE Advanced, NEET etc.
Links to access CBSE Board Exams 2020 Papers, Videos & Updates:
| | |
| --- | --- |
| CBSE Class 10 | CBSE Class 12 |
| CBSE Class 10 Science Board Exam 2020: Check Paper Analysis, Review & Student Feedback - Watch Video | CBSE 12th Physics Board Exam 2020: Paper Analysis & Review - Difficult Questions, Lengthy Paper - Watch Video |
| | CBSE 12th Physics Paper 2020: Download PDF, Check Updates & Watch Live Video! |
| CBSE Class 10 Maths Exam 2020: Check Paper Analysis, Review & Student Feedback - Watch Video | CBSE 12th Chemistry Board Exam 2020: Paper Analysis, Review, Feedback - Watch Video & Check Updates |
| | CBSE Class 12th Chemistry Paper 2020: Download PDF, Watch Video, Check Updates |
| CBSE Class 10 English Paper 2020: Analysis, Review & Students' Feedback - Watch Video | CBSE 12th Accountancy Exam 2020: Check Analysis, Review, Students' Reactions - Watch Live Video! |
| | CBSE 12th Accountancy Question Paper 2020: Download PDF, Watch Video & Check Updates! |
| CBSE Class 10 Hindi Paper 2020 Analysis, Review & Students' Reaction - Watch Video! | CBSE 12th Economics Board Exam 2020: Paper Analysis, Review, Updates - Watch Live Video |
| | CBSE 12th Economics Question Paper 2020: Download PDF, Watch Video, Check Updates |
| CBSE Class 10 Social Science Exam 2020: Check Paper Analysis, Students' Reaction & Latest Update | CBSE Class 12 Political Science Exam 2020: Paper Analysis, Review & Students' Reaction - Video Live Now |
| | CBSE Class 12 Political Science Question Paper 2020: Download in PDF |
| | CBSE 12th Economics Board Exam 2020: Paper Analysis, Review, Updates - Watch Live Video |
| | CBSE 12th Economics Question Paper 2020: Download PDF, Watch Video, Check Updates |
| | CBSE 12th History Board Exam 2020: Paper Analysis, Review, Latest Updates - Watch Live video! |
| | CBSE 12th History Paper 2020: Download PDF, Watch Live Video & Check Updates! |
| | CBSE 12th English Exam 2020: Check Paper Analysis, Review, Students' Reaction & Updates - Watch Video Now |
| | CBSE Class 12 English Paper 2020: Download PDF, Check Updates & Watch Live Video! |
| | CBSE 12th Biology 2020 Board Exam: Paper Analysis, Review, Updates |
| | |
| | CBSE 12th Physical Education Board Exam 2020: Paper Analysis, Review & Latest Updates |
| | CBSE 12th Physical Education Board Exam 2020: Download Question Paper & Check New Updates |
| | CBSE 12th Maths Board Exam 2020: Paper Analysis, Review & Updates |
| | |
Most Important Name Reactions asked in JEE Main exam
Best Books for JEE Main & JEE Advanced Preparation: Recommended by Toppers & Professors (Also Useful for WBJEE & Other State Level Exams)
Best Books for NEET/AIIMS Preparation: Recommended by Toppers and Teachers