CMAT 2021: Last Minute Tips & Preparation Strategy
Find out the last minute tips to crack the CMAT Exam on 22nd and 27th Feb 2021. Read the complete article at MBA section of jagranjosh.com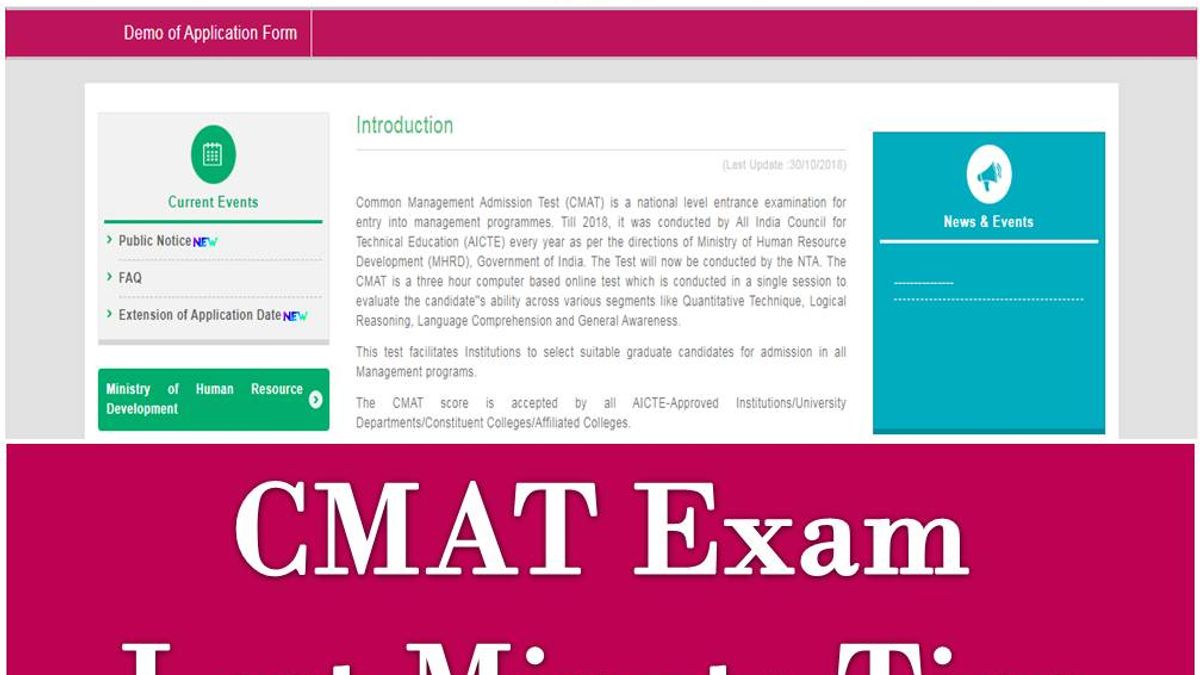 CMAT Exam Last Minute Tips
CMAT exam is scheduled for 28th January this year and with barely a few hours left for the D-day, it is time that you get ready for the last minute revision and brush up important points to avoid last minute rush. To begin with, let us first take a look at the CMAT exam pattern which is similar to CAT exam with 180 minutes (3hrs duration) in hand. It has total 100 questions with 25 questions each from every section (i.e. Quantitative Techniques & Data Interpretation, Logical Reasoning, Language Comprehension, and General Awareness). CMAT exam is generally not tough like other MBA entrance exams such as CAT and XAT however there is negative marking of 1 mark for each wrong answer makes it difficult to score a high percentile. It is important for the aspirants to know the crucial topics that should be revised at the last minute and areas to focus upon so that you can crack this exam without much ado.
Therefore, focus on each section and find chart out the right strategy to approach your CMAT 2020 exam in 3 hours to score a high percentile. Here are a few tips that will come handy to you-
Section 1: General Awareness [25 question (Max marks: 100)]
Usually students tend to ignore this section as they think that studying for this section very tedious and time consuming.
In order to revise this section at the last moment candidates are advised to read current news updates and regarding Business, politics, sports, awards and distinctions, books. We have also prepared a list of top 100 questions that sums up the current happenings of the year 2019 and 2020.

Section 2: Quantitative Techniques & Data Interpretation [25 question (Max marks: 100)]
This section involves faster calculation skills and ability so that you can attempt half of the question orally.
Since the questions are easier than other exams, they will be based on direct concept and formulas.
The important topics that should be revised are- Geometry, Simple Interest, Compound interest, Work, Algebra, and Probability
For data interpretation one must be good at calculations and for that you need practice. You can revise one question for each type of DI question so that you know how to approach the question in the exam.
CMAT Quantitative Aptitude Practice Exercises
Section 3: Logical Reasoning [25 question (Max marks: 100)]
This section is comparatively easier than other sections. You can score well in this if you analyze the solution while reading the questions. Therefore these questions should be read properly and slowly
Important topic are-Data Arrangement, Coding and Decoding, Blood Relations, Direction Sense, Input/Output analysis, Series and Sequences and Critical Reasoning
CMAT Logical Reasoning Practice Questions

Section 4: Language Comprehension [25 question (Max marks: 100)]
This section devotes its major part to vocabulary. So the while attempting vocabulary questions one should be sure about the answer as the options given are confusing
There are also questions on Sentence Correction, Reading Comprehension, Antonyms, Analogies, Fill in the blanks, Sentence Completion, Synonyms & Para Jumbles, etc.
One should start this section from reading comprehensions, para jumbles, Sentence correction as there are very less chances of losing marks in this section
Other than the above tips candidate should follow some key rules during the exam
You should never compromise on accuracy
You should be focused and relaxed.
Should not panic in case they are unable to do questions in the beginning
Focus on your strength and first do the questions you are sure about
Keep Admit Card and ID Proof ready
The only thing that you must carry to the test center on 28th January 2020 is your CMAT admit card along with the valid photo identity proof. Make sure your CMAT admit card printout is legible and contains correct information including the right photograph. Do not carry calculator, books, pens and pencils or stationary items as it is not allowed at the CMAT test center. CMAT being an online MBA entrance exam needs no candidate to bring such items, so refrain from using these items to avoid hassle at the CMAT test center.
We hope that the last minute tips to revise for the CMAT 2020 exam mentioned in this article will make your revision process easier.
For more updates on CMAT 2020, keep visiting MBA section of jagranjosh.com
Also Read: About CMAT Exam Eligibility Criteria – Click Here
Also Read: About CMAT Exam Syllabus – Click Here
Also Read: About CMAT Test Centers – Click Here
Also Read: About CMAT Exam Pattern – Click Here
Also Read: About CMAT Exam Registration Process – Click Here
Also Read: About CMAT Exam Important Dates – Click Here
Also Read: About CMAT List of Participating Institutes – Click Here
Also Read: About CMAT Exam Analysis – Click Here